Kingford focus on the high-quality PCBA order demand of "Multiple varieties, medium and small batch, and short lead time".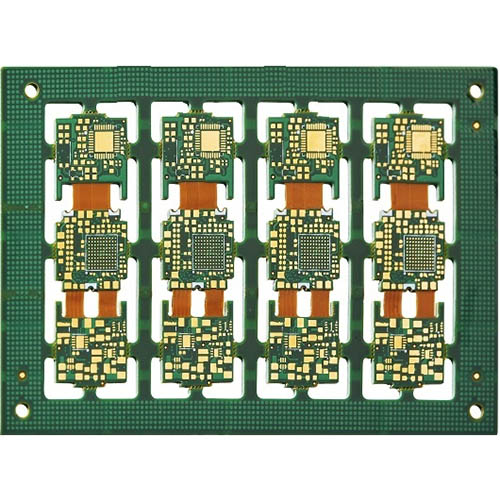 8-layer 2-stage HDI rigid-flex board
Name: 8-layer 2-stage HDI rigid-flex board
Layers: 8L
Structure: 3F+5R (8-layer 2-level HDI)
Sheet Type: PI, PET, PEN
Minimum hole: 0.1mm
PI thICkness: 0.5mil-2mil
Cu Thickness: 1/3oz-2oz
Minimum line width/line spacing: 0.1/0.1mm;
NPTH Finished Aperture Tolerance: ±1mil(±0.025mm)
PTH Finished Aperture Tolerance: ±2mil(±0.050mm)
Finished plate thickness tolerance: ±0.01mm
Minimum line width/line gap: 0.05/0.05mm
Application field: High-end precision industrial sensor control board
Product Details
Data Sheet
The panels in an 8-layer rigid-flex PCB offer several advantages to the PCB. The panel format allows for easier assembly of components, reducing overall delivery time. A good panel layout will also speed up testing and inspection time, reducing time-to-MARKet risk. Properly planning the panel layout allows engineers to increase the number of circuits in a PCB. These circuits can be designed to be placed close together to maximize the use of panel space. These different steps result in lower manufacturing costs and customer spending. Due to these advantages, product manufacturers in different industrial fields have opted for 8-layer rigid-flex PCBs in the form of panels.
At kingford, the 8-layer rigid-flex PCB in panel form is made of FR4+ polyimide material and treated with HASL, Immersion Gold, HASL, OSP for enhanced surface protection. These boards are manufactured with Width/Pitch: 4/4mil, Finish ThICkness: 0.2mm (flexible), 1.6mm, Min Thermal: 0.4mm, board Thickness 0.5mm~3.0mm (0.02"~0.12"), Copper Thickness: 0.5oz , 1.0 oz, 2.0 oz, 3.0 oz, up to 6 oz. Solder mask color selection to highlight components of flex PCB white/black/blue/green/red, Taiyo PSR4000 white.
We see quality and credibility as the key to meeting the dynamic needs of our customers. Our Rigid Flex PCBs undergo rigorous testing, which helps us make the most accurate, timely and cost-effective designs. With the highest quality results and prompt service, our products meet the needs of many different markets, including the automotive, electronics, telecommunications, military, aerospace and defense industries.
Name: 8-layer 2-stage HDI rigid-flex board
Layers: 8L
Structure: 3F+5R (8-layer 2-level HDI)
Sheet Type: PI, PET, PEN
Minimum hole: 0.1mm
PI thICkness: 0.5mil-2mil
Cu Thickness: 1/3oz-2oz
Minimum line width/line spacing: 0.1/0.1mm;
NPTH Finished Aperture Tolerance: ±1mil(±0.025mm)
PTH Finished Aperture Tolerance: ±2mil(±0.050mm)
Finished plate thickness tolerance: ±0.01mm
Minimum line width/line gap: 0.05/0.05mm
Application field: High-end precision industrial sensor control board
We use cookies to optimize our website and our service.