Kingford focus on the high-quality PCBA order demand of "Multiple varieties, medium and small batch, and short lead time".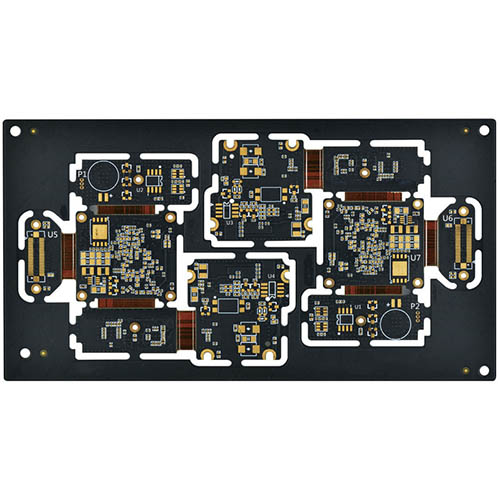 10-layer 2-stage HDI rigid-flex board
Name: 10-layer 2-stage HDI rigid-flex board
Plate: Taiguang EM-888S
Plate thICkness: 1.0 mm
Layers: 10 layers
Minimum line width/line spacing: 4/4mil
Finished copper thickness: inner layer 0.5OZ, outer layer 1OZ
Acceptance Criteria: IPC6012 CLASS Level 3
Surface Technology: Immersion Gold
Dielectric constant: 3.8
Loss factor: 0.0055
Use: security monitoring equipment
Product Details
Data Sheet
At kingford, you can manufacture 10-layer rigid-flex PCB and 2-layer flex/strengthened circuit board, board thICkness 0.5mm~3.0mm (0.02"~0.12") and copper thickness 0.5 OZ, 1.0 OZ, 2.0 OZ, 3.0 OZ, up to 6 oz. Considering the harshness of the application environment, these rigid flexible circuit boards are surface treated and treated with immersion gold, HASL, OSP. This special treatment improves their corrosion resistance and robustness when used in critical applications. You can choose white/black/blue/green/red, Taiyo PSR4000 white as solder mask and black/white as legend/silkscreen color.

We are far more capable of 10-layer rigid-flex PCBs and 2-layer flex/rigger boards! Each stage of the design, manufacturing and assembly stages undergoes rigorous quality checks to ensure optimum quality and flawless operation when applied. Let us meet your special requirements now; we will meet your needs to the fullest and guarantee Flexible circuit boards that are robust and can withstand harsh environments.
Name: 10-layer 2-stage HDI rigid-flex board
Plate: Taiguang EM-888S
Plate thICkness: 1.0 mm
Layers: 10 layers
Minimum line width/line spacing: 4/4mil
Finished copper thickness: inner layer 0.5OZ, outer layer 1OZ
Acceptance Criteria: IPC6012 CLASS Level 3
Surface Technology: Immersion Gold
Dielectric constant: 3.8
Loss factor: 0.0055
Use: security monitoring equipment
We use cookies to optimize our website and our service.