Building 6, Longhui Industrial Park, Baoan District, Shenzhen
Automotive electronics contains more than 200 electronic control units, the main purpose is to improve the performance of the vehicle in terms of operating experience, operating efficiency and operating safety, kingford has more than 20 years of experience in automotive electronics manufacturing and assembly, we understand the specific quality requirements of the automotive industry, Therefore, we can provide PCB assembly services of various materials, composite materials and structures. At present, we have passed IATF 16949, ISO9001 and other system certifications, and can provide high-quality PCB manufacturing and assembly services.

PCBs are key components of various electronic systems used in the automotive industry, so automotive PCBs must be carefully designed and constructed to ensure they meet performance goals and relevant industry standards. PCB types for automotive electronics are widely used, ranging from flexible PCBs, rigidPCB and etc. PCB assemblies are found in a variety of automotive devices and systems, including but not limited to: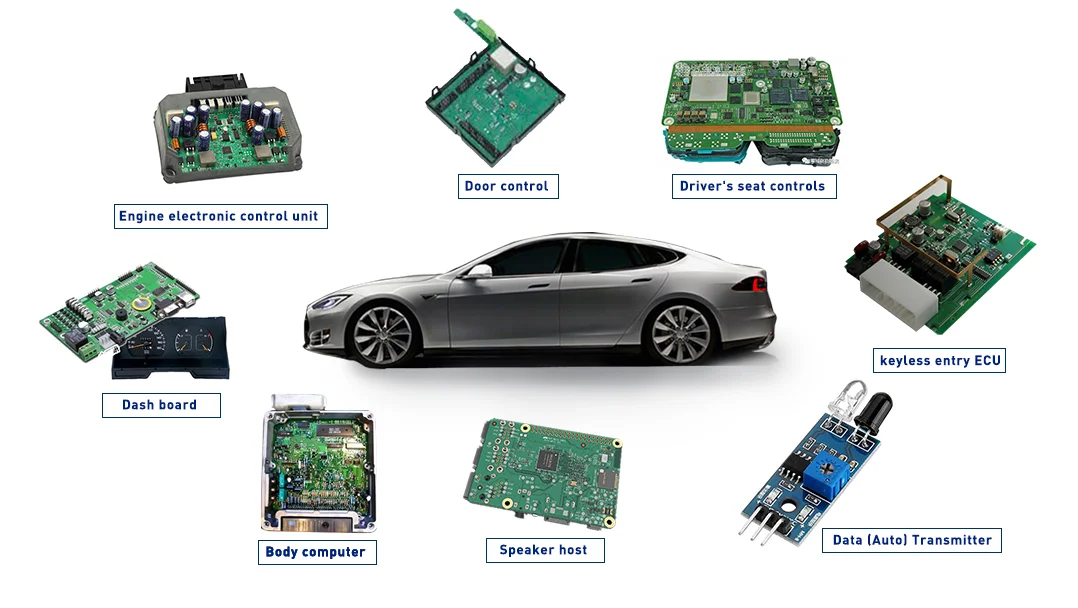 Engine systems: To ensure efficient and safe conditions, they usually use metal cores or rigid-flex PCBs.




Dashboard Communication System: Provides the driver with information about the condition or performance of the vehicle. They usually use flexible multilayer and HDI PCBs.




Navigation System: Provides location information and directions to the driver. They usually use embedded PCBs.




Battery Charging Station: Enables drivers to charge electric vehicles. They usually use PCBs with high current capacity.
Security Systems: Prevent vehicle theft by providing automatic locking or remote locking and alerting when potential theft is detected. They usually use flexible multilayer and HDI PCBs.




---





Kingford provides the world's top one-stop PCBA services for the automotive market, including one-stop PCBA services for PCB design, DFMA services, PCB manufacturing, PCB assembly, component procurement, and assembly testing, always focusing on multi-quality, small and medium batches, and short delivery time PCBA order requirements.
Just upload Gerber files, BOM files and design files, and the KINGFORD team will provide a complete quotation within 24h.