Building 6, Zone 3, Yuekang Road,Bao'an District, Shenzhen, China
Kingford is a PCBA manufacturing service provider focusing on "small and medium batches, short delivery time, and multi-quality". We provide end-to-end PCB industrial solutions and excellent manufacturing and assembly capabilities. At present, we have obtained ISO9001, ISO13485, ISO14001, IATF 16949 , UL and other authoritative certifications at home and abroad, and has established long-term cooperative relations with many companies around the world. We provide powerful manufacturing solutions, including medical and health care, automotive electronics, smart home, industrial control, artificial intelligence, and the Internet of Things.
At kingford, we provide unique solutions to various industries by providing high-quality PCB assembly and electronic manufacturing services. As a one-stop PCBA electronic service provider, we provide everything from PCB design, DFMA services, PCB manufacturing, PCB assembly, component One-stop services such as device procurement, assembly testing, etc., to provide PCBA industry solutions.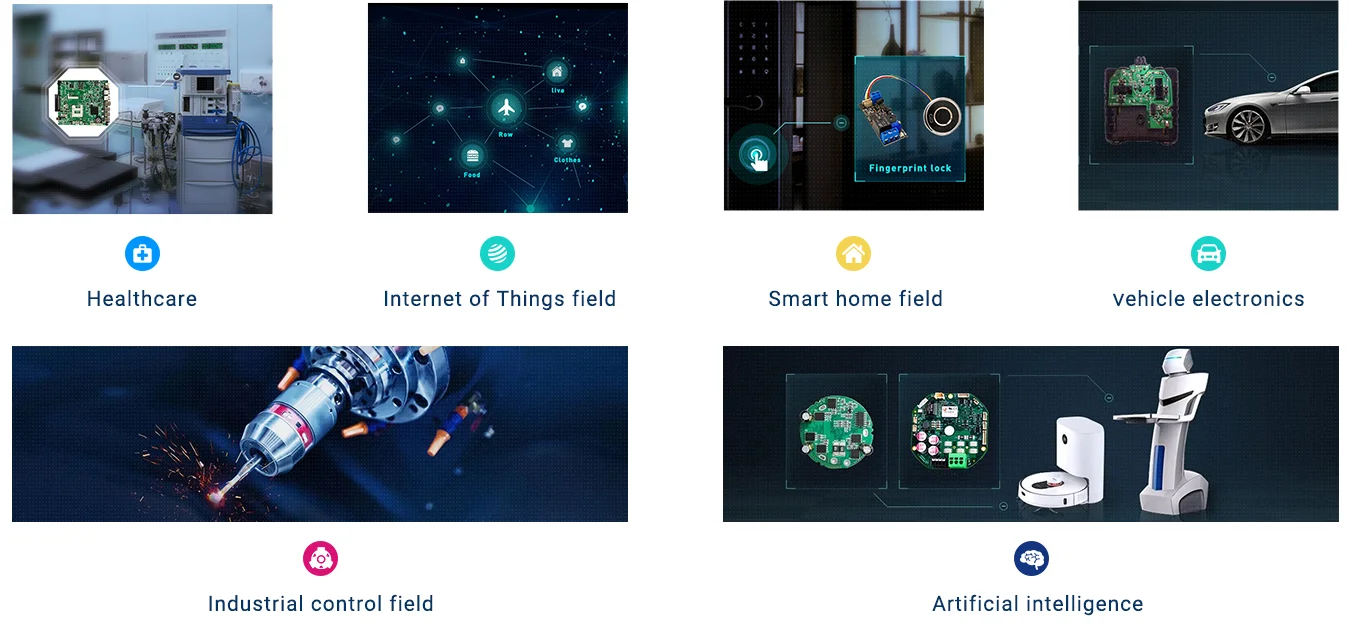 Healthcare: Kingford has more than 20 years of experience in providing world-class medical PCB assembly and manufacturing services to the healthcare industry, and we have the ability to assemble one-stop medical diagnostic and therapeutic equipment, including medical ultrasound systems, blood analyzers , Endoscopic imaging system, arteriosclerosis tester, MRI equipment, CT scanner, PCB medical wearable and other products.
Automotive electronics field: systems and equipment in automotive electronics require special attention to not allow any defects, PCB manufacturing and PCB assembly in automotive electronics require a high level of reliability to ensure safe performance under extreme conditions, at Kingford we are familiar with Special requirements for automotive electronics PCB and PCB assembly to ensure compliance and product quality.
Smart home field: At kingford we have more than 20 years experience in PCB manufacturing and PCB assembly, both PCB and PCB assembly for smart home devices can meet your needs and can design smart home products that exceed your expectations, we support all types PCB, including rigid-flex PCB, and can provide you with advice on the type of PCB industry in the smart home, from design to assembly services we can provide you with the best service.
Industrial control field: Kingford is one of the first choice manufacturers trusted by customers for high-quality PCB assembly. Electronic products for industrial applications need to be stable and suitable for use in harsh conditions, because industrial PCB Rapid development in the industrial control industry. We have a professional PCB design team and rich practical experience in the industry, we can ensure to provide leading PCB manufacturing and PCB assembly services.
Artificial intelligence: Artificial intelligence applications include robots, autonomous vehicles, medical and health equipment, and natural language recognition. The emergence of artificial intelligence makes life more convenient and easier. Kingford has long-term cooperation with well-known component procurement suppliers. We are familiar with capacitors, resistors, inductors, fuses, connectors and other parts, and can provide you with high-quality alternatives.
Internet of Things field: Artificial intelligence and Internet of Things make everything smart and make people's lives more convenient and easier. Kingford has more than 20 years of industry experience and has provided PCB manufacturing and assembly services for many customers, such as CT scanners in the medical and health field, car navigation systems in the automotive electronics field, instrumentation in the industrial control industry and other products.
---
For more than 20 years, we have been working hard to ensure that each customer's electronic design, component procurement, PCB manufacturing and management are easier, cheaper and more worry-free; we have been meeting medical and health, automotive electronics, smart home, industrial control, Artificial intelligence, Internet of Things and other industries.
Just upload Gerber files, BOM files and design files, and the KINGFORD team will provide a complete quotation within 24h.