Kingford focus on the high-quality PCBA order demand of "Multiple varieties, medium and small batch, and short lead time".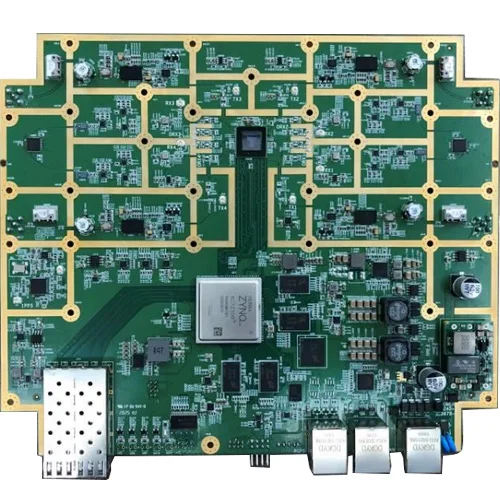 RFPD 5G Smallcell Hybrid PCB Assembly
Functionality: quad transmitters, quad receivers,

and dual observation receivers with 2 inputs each
Bandwidth: 200 MHz receiver,
200 MHz large signal/ 450 MHz synthesis transmitter
,and 450 MHz observation receiver
Tuning range: 650 MHz to 6 GHz
Interface: 12 Gbps JESD204B/C 1
Power consumption: 5 W 2
Multichip LO phase synchronization
DFE features: Enhanced DPD / CLGC / CFR 3
Package: 14 ×14 BGA
1. Will update to 24.33Gbps in future release
2. For 25% Rx 75% Tx, 1x Orx on, 200 MHz/450 MHz/450MHz BW, 0 dB attenuation
3. Supported on ADRV9029 whICh is coming soon
Product Details
Data Sheet
ADRV9009 vs ADRV9026 – Features & SpecifICation
Spec/Feature

ADRV9008/9

ADRV9026

No. Tx/Rx/Orx

2T2R1OR

4T4R2OR

TDD/FDD Support

Single-chip TDD

Two-chip FDD

Single Chip TDD & FDD

Frequency Range

75MHz – 6GHz

650MHz – 6GHz

1

Rx/Tx/Orx Channel BW

200MHz/450MHz/450MHz

200MHz/450MHz/450MHz

Power Consumption

1x

0.5x

ADC/DAC Max Sampling Rate

2Gbps/1Gbps

5Gbps/2.5Gbps

Interface

12Gbps JESD204B

16Gbps JESD204B & JESD204C

SERDES Lane Count

4 lanes each direction

4 lanes each direction

Supply Rails

1.3V/1.8V/3.3V

1.0V/1.3V/1.8V

Package

12x12 FC-BGA

12x12 FC-BGA

DFE Features

N/A

Integrated DPD & CFR (bypassable) for up to 200MHz BW applications

ADRV9029 reference design for SMAll cell
► On board RF reference design
▪ Add PA pre-driver stage HMC625B/ADL5611 to enable the reference platform can connect to PA EVB directly
▪ Add ADI RF Front end products ADRF5545A/ADRF5549 on RX channels, and switch products on ORx channels
▪ Make the board support middle/high RF bands SIMultaneously
► On board clock solution
▪ Use dual clock domains clock device AD9545
▪ Add SyncE capability needed for O-RAN
► On board power supply solution
▪ Use ADP5054 as the power supply for ADRV902x and clock devices
▪ Leave interface for external PoE EVB + ADI power brick supply
► Multiple FPGA platform supported
▪ Work with either ADS9 board or Intel Arria 10 board.
▪ Common GUI software and user interface
► DFE verification software supported
▪ Integrate the DPD / CFR / CLGC verification interface in GUI
Kingford provides RFPD 5G Smallcell RU RFPD 5G Smallcell RU Boards services. This is a PCBA one-stop assembly factory with senior industry experience. Welcome to inquiry.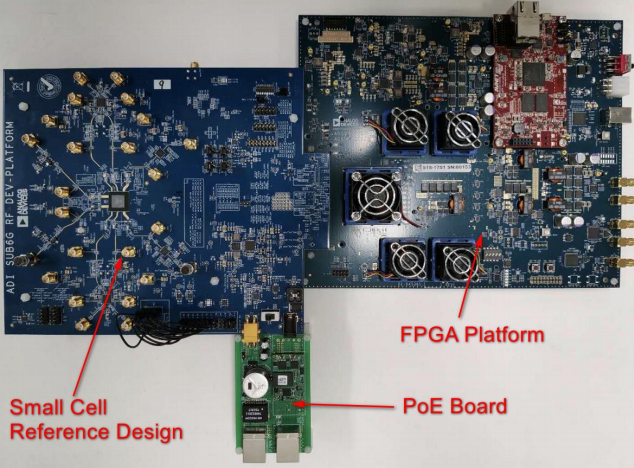 Functionality: quad transmitters, quad receivers,

and dual observation receivers with 2 inputs each
Bandwidth: 200 MHz receiver,
200 MHz large signal/ 450 MHz synthesis transmitter
,and 450 MHz observation receiver
Tuning range: 650 MHz to 6 GHz
Interface: 12 Gbps JESD204B/C 1
Power consumption: 5 W 2
Multichip LO phase synchronization
DFE features: Enhanced DPD / CLGC / CFR 3
Package: 14 ×14 BGA
1. Will update to 24.33Gbps in future release
2. For 25% Rx 75% Tx, 1x Orx on, 200 MHz/450 MHz/450MHz BW, 0 dB attenuation
3. Supported on ADRV9029 whICh is coming soon
We use cookies to optimize our website and our service.