Kingford focus on the high-quality PCBA order demand of "Multiple varieties, medium and small batch, and short lead time".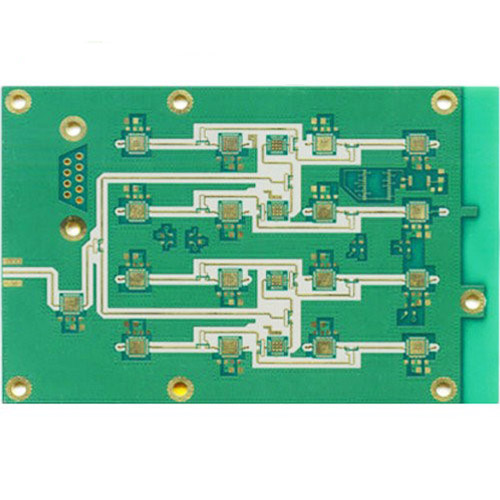 PCB high frequency microwave hybrid PCB
Name: PCB high frequency microwave hybrid plate
Layers: 6 layers
Plate thICkness: 1.6±0.14mm
Plate used: Rogers4350B+FR4 Shengyi
Dielectric constant: 2.2±0.02
Dielectric loss factor: 0.0009
Z SMAll aperture: 0.3mm
Surface Treatment: Immersion Gold ENIG
Z line width/spacing: 0.2mm/0.3mm
Process features: special materials, Rogers4350B+FR4 Shengyi mixed lamination
Product Details
Data Sheet
Hybrid PCBs are commonly used in mICrowave RF series products
With the rapid development of electronic communication technology, in order to achieve high-speed, high-fidelity signal transmission, more and more microwave RF PCBs are used in communication equipment. Dielectric materials for high-frequency hybrid circuit boards have excellent electrical properties and good chEMIcal stability, mainly in the following four aspects.
1. The hybrid PCB has the characteristics of SMAll signal transmission loss, short transmission delay time, and small signal transmission distortion.
2. Excellent dielectric properties (mainly refers to low relative dielectric constant DK, low dielectric loss factor DF). In addition, the dielectric properties (DK, DF) remain stable under environmental changes such as frequency, humidity and temperature.
3. High-precision characteristic impedance control.
4. Hybrid PCB has excellent heat resistance (TG), processability and adaptability.
Microwave High Frequency Hybrid PCB is widely used in wireless antennas, base station receiving antennas, power amplifiers, radar systems, navigation systems and other communication equipment.
Name: PCB high frequency microwave hybrid plate
Layers: 6 layers
Plate thICkness: 1.6±0.14mm
Plate used: Rogers4350B+FR4 Shengyi
Dielectric constant: 2.2±0.02
Dielectric loss factor: 0.0009
Z SMAll aperture: 0.3mm
Surface Treatment: Immersion Gold ENIG
Z line width/spacing: 0.2mm/0.3mm
Process features: special materials, Rogers4350B+FR4 Shengyi mixed lamination
We use cookies to optimize our website and our service.