Kingford focus on the high-quality PCBA order demand of "Multiple varieties, medium and small batch, and short lead time".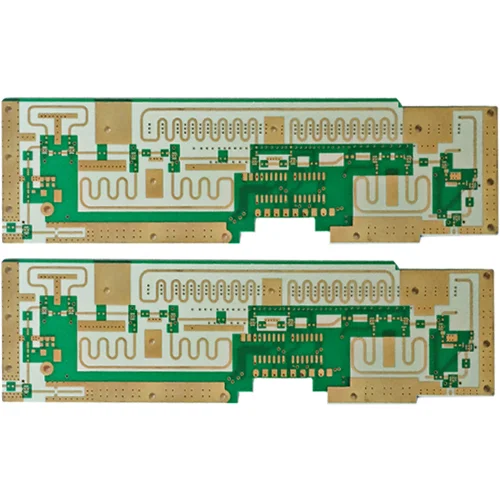 Rogers RO4003C High Frequency PCB Board
Name: Rogers RO4003C High Frequency PCB Board
Darkness: 3.38±0.04
Layers: 2 layers
DielectrIC thickness: 0.508mm (20mil)
Finished thickness: 0.6mm
Material Copper Thickness: ½(17μm)
Finished copper thickness: 1OZ (35μm)
Surface treatment: Immersion silver
Applications: Communication infrastructure, computers, aerOSPace
Product Details
Data Sheet
RO4003C™ Laminate
Rogers RO4003C material is a proprietary woven glass reinforced hydrocarbon/ceramIC with the electrical properties of PTFE/woven glass and the manufacturability of epoxy/glass.
RO4003C laminates are available in a variety of configurations in 1080 and 1674 glass fabric styles, all conforming to the same laminate electrical performance specifications. RO4003C laminates offer tightly controlLED dielectric constant (Dk) and low loss while using the same processing methods as standard epoxy/glass, but at a fraction of the cost of traditional microwave laminates. Unlike PTFE-based microwave materials, no special through-hole processing or handling procedures are required.
RO4003C material is bromine free and does not meet UL 94 V-0 ratings. For applications or designs that require a UL 94 V-0 flammability rating, RO4835™ and RO4350B™ laminates do meet this requirement.
feature
Dk is 3.38 +/- 0.05

0.0027 dissipation factor at 10 GHz

Low Z-axis thermal expansion at 46 ppm/°C
benefit
Ideal for multi-layer board (MLB) construction

Processes such as FR-4 are less expensive to manufacture

Designed for performance-sensitive high-volume applications

Competitive pricing
Name: Rogers RO4003C High Frequency PCB Board
Darkness: 3.38±0.04
Layers: 2 layers
DielectrIC thickness: 0.508mm (20mil)
Finished thickness: 0.6mm
Material Copper Thickness: ½(17μm)
Finished copper thickness: 1OZ (35μm)
Surface treatment: Immersion silver
Applications: Communication infrastructure, computers, aerOSPace
We use cookies to optimize our website and our service.