Kingford focus on the high-quality PCBA order demand of "Multiple varieties, medium and small batch, and short lead time".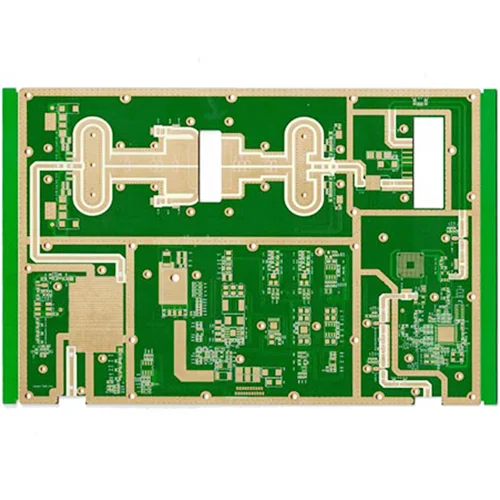 RO4350B + FR4 high frequency hybrid plate
Product name: RO4350B + FR4 high frequency hybrid plate
Plate: Rogers RO4350B+FR4
Layers: 4L
Copper Thickness: 1OZ
Media thickness: 0.508mm
Dielectric Constant: 3.48
Thermal conductivity: 0.69w/m.k
Flame retardant grade: V-0
Volume resistivity: 1.2*1010
Surface resistivity: 5.7*109
Density: 1.9gm/cm3
Surface technology: chEMIcal immersion gold
Application: communication instrument
Product Details
Data Sheet
Rogers RO4350B PCB material is a strengthened glassy hydrocarbon/ceramIC material that can be processed in the same way as low cost printed circuits on FR-4 substrate material. Its dielectric constant at 10 GHz is 3.48, which makes it commonly used in high frequency power amplifier designs. The ro4350b laminate has a low coefficient of thermal expansion (CTE) along the z-axis, ensuring high stability for Multilayer circuits interconnected through metallized vias (PTH).
Product name: RO4350B + FR4 high frequency hybrid plate
Plate: Rogers RO4350B+FR4
Layers: 4L
Copper Thickness: 1OZ
Media thickness: 0.508mm
Dielectric Constant: 3.48
Thermal conductivity: 0.69w/m.k
Flame retardant grade: V-0
Volume resistivity: 1.2*1010
Surface resistivity: 5.7*109
Density: 1.9gm/cm3
Surface technology: chEMIcal immersion gold
Application: communication instrument