Building 6, Zone 3, Yuekang Road,Bao'an District, Shenzhen, China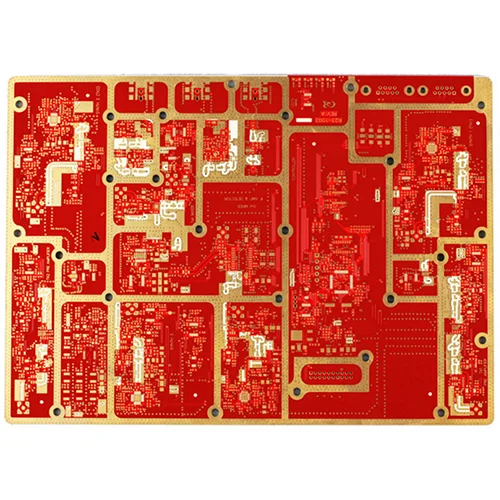 Communication high frequency hybrid PCB
Name: Communication high frequency hybrid PCB
Category: RF PCB
PCB layers: 6L
Sheet used: Ro4350B+FR4
Plate thickness: 1.6mm
Size: 210mm*28Omm
Surface Treatment: Immersion Gold
Minimum aperture: 0.25mm
Application field: communication
Features: high frequency mixed pressure
Product Details
Data Sheet
The high-frequency hybrid PCB splint includes a base plate, which is folded and positioned on the first inner wire layer, the first outer wire layer, and the top surface of the solder mask ink layer from bottom to top in order from top to bottom. The positioning circuit layer, the second outer wire layer, the bottom surface of the substrate The second layer of solder resist ink layer, the substrate includes a high-frequency area and an auxiliary area, the auxiliary area is finally fixed, and the inlay in the high-frequency area should be located at a fixed position. The utility model provides a high-frequency hybrid splint, which is divided into two parts: a high-frequency area and an auxiliary area. Provide mechanical support. The utility model discloses that the high-frequency area is independently arranged, and only the high-frequency area is made of high-frequency materials. Under the condition of satisfying high-frequency signals, the use of high-frequency board materials is minimized and the production cost is reduced.
High Frequency Hybrid Product Classification Layers: 6 Layers Used Board: ro4350b +FR4 Thickness: 1.6mm Size: 210mm*280mm Surface Treatment: Gold-plated Minimum Aperture: 0.25mm Application: Communication Features: High Frequency Mixed Pressure
Name: Communication high frequency hybrid PCB
Category: RF PCB
PCB layers: 6L
Sheet used: Ro4350B+FR4
Plate thickness: 1.6mm
Size: 210mm*28Omm
Surface Treatment: Immersion Gold
Minimum aperture: 0.25mm
Application field: communication
Features: high frequency mixed pressure
Just upload Gerber files, BOM files and design files, and the KINGFORD team will provide a complete quotation within 24h.