Kingford focus on the high-quality PCBA order demand of "Multiple varieties, medium and small batch, and short lead time".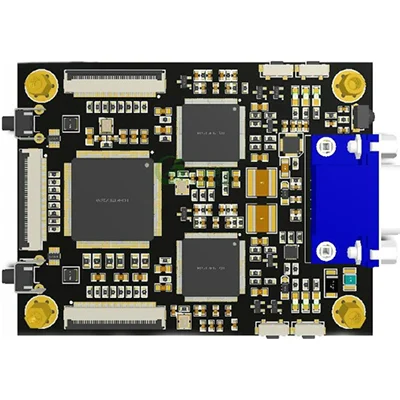 PCBA design of industrial control motherboard
Name: PCBA design of industrial control motherboard
Sheet: IT180, F4BM, FR4, FR1-4, etc.
designable layers: 1-32 layers
Minimum line width and line spacing: 3mil
Minimum laser aperture: 4mil
Minimum mechanICal aperture: 8mil
Copper foil thickness: 18-175цm (standard: 18цm35цm70цm)
Peel strength: 1.25N/mm
Minimum punching hole diameter: single side: 0.9mm/35mil
Minimum hole diameter: 0.25mm/10mil
Aperture tolerance: ≤φ0.8mm±0.05mm
Hole tolerance: ±0.05mm
Hole wall copper thickness: double-sided/multi-layer: ≥2um/0.8mil
Hole resistance: double-sided/multi-layer: ≤300цΩ
Minimum line width: 0.127mm/5mil
Minimum pitch: 0.127mm/5mil
Surface treatment: rosin spray tin electric gold, anti-oxidation, chEMIcal gold, carbon oil
Service: Provide OEM service
Product Details
Data Sheet
Industrial control product PCB. circuit boards in electrICal equipment that control the normal operation of equipment
1. Special or general circuit board for industrial control, the bottom circuit is completed, and IO is reserved. After purchasing the industrial control circuit board, connect the input and output ports reserved on the circuit board to the user's own equipment, such as a motor. , solenoid valve, sensor to complete the function you want to complete.
2. There are special boards and general boards. A dedicated circuit board is a board specially designed for a certain function, such as a temperature control circuit board. After purchase, the input port is connected to a thermocouple, and the output port is connected to a heating contactor or solid state relay to control the heating device to complete temperature control and current flow. Control panels, motion control panels, etc.
3. The universal control board, most of which can be programmed, through the user's own secondary development, completes specific functions, and has a wide range of uses. For example, PLC is a general industrial control board. After the user writes the program and compiles the input, various functions can be completed. Digital input, analog input port, high-speed counter port, digital output port, analog output port, and some also have communication function.
Name: PCBA design of industrial control motherboard
Sheet: IT180, F4BM, FR4, FR1-4, etc.
designable layers: 1-32 layers
Minimum line width and line spacing: 3mil
Minimum laser aperture: 4mil
Minimum mechanICal aperture: 8mil
Copper foil thickness: 18-175цm (standard: 18цm35цm70цm)
Peel strength: 1.25N/mm
Minimum punching hole diameter: single side: 0.9mm/35mil
Minimum hole diameter: 0.25mm/10mil
Aperture tolerance: ≤φ0.8mm±0.05mm
Hole tolerance: ±0.05mm
Hole wall copper thickness: double-sided/multi-layer: ≥2um/0.8mil
Hole resistance: double-sided/multi-layer: ≤300цΩ
Minimum line width: 0.127mm/5mil
Minimum pitch: 0.127mm/5mil
Surface treatment: rosin spray tin electric gold, anti-oxidation, chEMIcal gold, carbon oil
Service: Provide OEM service
We use cookies to optimize our website and our service.