Kingford focus on the high-quality PCBA order demand of "Multiple varieties, medium and small batch, and short lead time".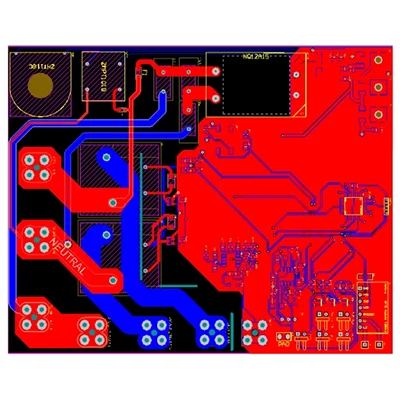 Consumer Electronics PCB/PCBA Design
Name: Consumer ElectronICs PCB/PCBA Design
Sheet: IT180, F4BM, FR4, FR1-4, etc.
designable layers: 1-32 layers
Minimum line width and line spacing: 3mil
Minimum laser aperture: 4mil
Minimum mechanical aperture: 8mil
Copper foil thickness: 18-175цm (standard: 18цm35цm70цm)
Peel strength: 1.25N/mm
Minimum punching hole diameter: single side: 0.9mm/35mil
Minimum hole diameter: 0.25mm/10mil
Aperture tolerance: ≤φ0.8mm±0.05mm
Hole tolerance: ±0.05mm
Hole wall copper thickness: double-sided/multi-layer: ≥2um/0.8mil
Hole resistance: double-sided/multi-layer: ≤300цΩ
Minimum line width: 0.127mm/5mil
Minimum pitch: 0.127mm/5mil
Surface treatment: rosin spray tin electric gold, anti-oxidation, chEMIcal gold, carbon oil
Service: Provide OEM service
Product Details
Data Sheet
Features:
Scope
It belongs to a specifIC household appliance, which contains electronIC components, and is usually used for entertainment, communication and clerical purposes, such as telephones, audio-visual teaching materials, TV sets, DVD players and even electronic clocks.
Commodity volume
Except for large-scale household appliances related to volume, most of them are developing towards light, thin and short. for easy portability or use.
automation
Increased automation. For example, One Touch and Fuzzy logic SIMplify the user's operation.
energy-saving design
Some electronic products still need to consume 5% to 10% of the energy due to standby power. Therefore, by continuously improving the design of the circuit, the power consumption during use and standby mode is further reduced.
Product connotation
Consumer electronic products have different connotations in countries with different development levels, and have different connotations in different development stages of the same country.
my country's consumer electronic products refer to audio and video products related to radio and television used for individuals and families, mainly including: TV sets, DVD players (VCD, SVCD, DVD), video recorders, CAMcorders, radios, tape recorders, combination Audio, record player, CD player, etc. In some developed countries, telephones, personal computers, home office equipment, household electronic health care equipment, and automotive electronic products are also included in consumer electronic products. With the development of technology and the emergence of new products and new applications, digital cameras, mobile phones, PDAs and other products are also becoming emerging consumer electronic products. Since the late 1990s, information appliances integrating the three fields of computer, information and communication, and consumer electronics have been widely used in family life. It has functions such as audio-visual, information processing, and two-way network communication. It consists of a processor, related supporting hardware (such as a display card, storage medium, IC card or credit card reading device), an embedded operating system, and software packages at the application layer. In a broad sense, information appliances include all home appliances that can exchange information through network systems, such as PCs, set-top boxes, HPCs, DVDs, super VCDs, wireless data communication equipment, video game equipment, SMArt TV boxes, WEBTV, etc. At present, audio, video and communication equipment are the main components of information appliances. In the long run, refrigerators, washing machines, microwave ovens, etc.
Name: Consumer ElectronICs PCB/PCBA Design
Sheet: IT180, F4BM, FR4, FR1-4, etc.
designable layers: 1-32 layers
Minimum line width and line spacing: 3mil
Minimum laser aperture: 4mil
Minimum mechanical aperture: 8mil
Copper foil thickness: 18-175цm (standard: 18цm35цm70цm)
Peel strength: 1.25N/mm
Minimum punching hole diameter: single side: 0.9mm/35mil
Minimum hole diameter: 0.25mm/10mil
Aperture tolerance: ≤φ0.8mm±0.05mm
Hole tolerance: ±0.05mm
Hole wall copper thickness: double-sided/multi-layer: ≥2um/0.8mil
Hole resistance: double-sided/multi-layer: ≤300цΩ
Minimum line width: 0.127mm/5mil
Minimum pitch: 0.127mm/5mil
Surface treatment: rosin spray tin electric gold, anti-oxidation, chEMIcal gold, carbon oil
Service: Provide OEM service
We use cookies to optimize our website and our service.