Long Hui No.6, The 3th Industrial Park of Fuqiao, Fuhai Street,Bao'an,Shenzhen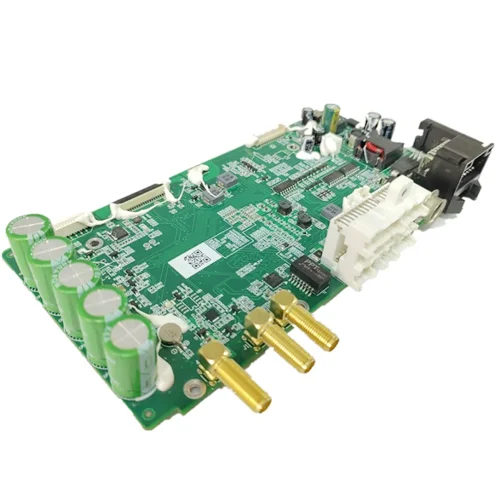 Consumer Electronics OEM PCB Assembly Manufacturer
PCB Assembly Name:Industrial Control and Consumer Electronics OEM PCB Assembly Manufacturer
Surface Finishing:HASL, Enig, OSP, Immersion Au, AG, Sn
PCBA-Testing:X-ray, Aoi
Type:Rigid Circuit Board
Flame Retardant Properties:V0
Processing Technology:Electrolytic Foil
Insulation Materials:Organic Resin
Material:Complex
Transport Package:Packed in Carton
Specification:Copper
Layer:1-18 Layer
Copper Thickness:0.5oz-6oz
Board Thickness:0.2mm-4mm
Min.Hole Size:0.1mm (4 Mil)
Min.Line Spacing:0.1mm (4 Mil)
PCBA QC:X-ray, Aoi Test, Function Test(100% Test)
Specialised:Consumer, LED, Medical, Industrial, Control Board
Delivery:PCB, 7-10 Days;PCBA, 2-3weeks
Service:PCBA/PCB Assembly/PCB Circuit Board
Other Service:PCB/PCB Layout and Design, Engineering Support
Product Details
Data Sheet
Who we are?
KINGFORD was founded in 2005,we are a manufacturer who are specialized in PCB Assembly (SMT, DIP, AI) and electronic product final assembly (EMS) in the top market for global customers.

We have more than 10 years of SMT manufacturing experience, well appointed SMT ,DIP and assembly lines, offering one stop service from SMT,FPC,DIP,EMS, conformal coating, testing, final assembly, component procurement ,design, peripheral products support and so on. we are equipped with High-speed and accurately SMT Equipment ,and we provide a whole range of SPI,AOI,ICT,FCT,X-RAY,ROHS and aging testing for products. All ourshop floors are dust free, all lines are lead free, we are ISO9001 certified company.

We open bom cost quotation,with high quality control strategy and 8D analysis method,we focus on top market customers, such as PCBAs on medical , industrial , financial,robotic,automobile , New Energy.
We service for many global customers,such as the globe leader in grain processing and a leading solution provider;the top 3 in medical industry customer in China; the global leader in Telehealth Sensors industry and so on.
What we can do?
PCB capability and services:
1. Single-sided, double side & multi-layer PCB. FPC. Flex Rigid PCB with competitive price,
good quality and excellent service.
2. CEM-1, CEM-3 FR-4, FR-4 High TG, Aluminum base material, Polyimide, etc.
3. HAL, HAL lead free, Immersion Gold/ Silver/Tin, OSP surface treatment.
4. Quantities range from sample to mass order
5. 100% E-Test
SMT(Surface Mounting technology),DIP.
1. Material Sourcing Service
2. SMT assembly and Through hole components insertion
3.100% AOI testing
4. IC pre-programming / Burning on-line
5.ICT testing
6.Function testing as requested
7.Complete Unit assembly (which including plastics, metal box, Coil, cable inside etc)
8.Conformal coating
9.OEM/ODM also welcomed
Production Capacity

PCB Max. size

DIP capacity

Min component size

0201

Min.pin space of IC

0.3mm

Min. space of BGA

0.3mm

Max.precision of IC assembly

±0.03mm

SMT capacity

≥2 million points/day

DIP capacity

≥100k parts/day
EMS Capacity

electronic product final assembly

100k/month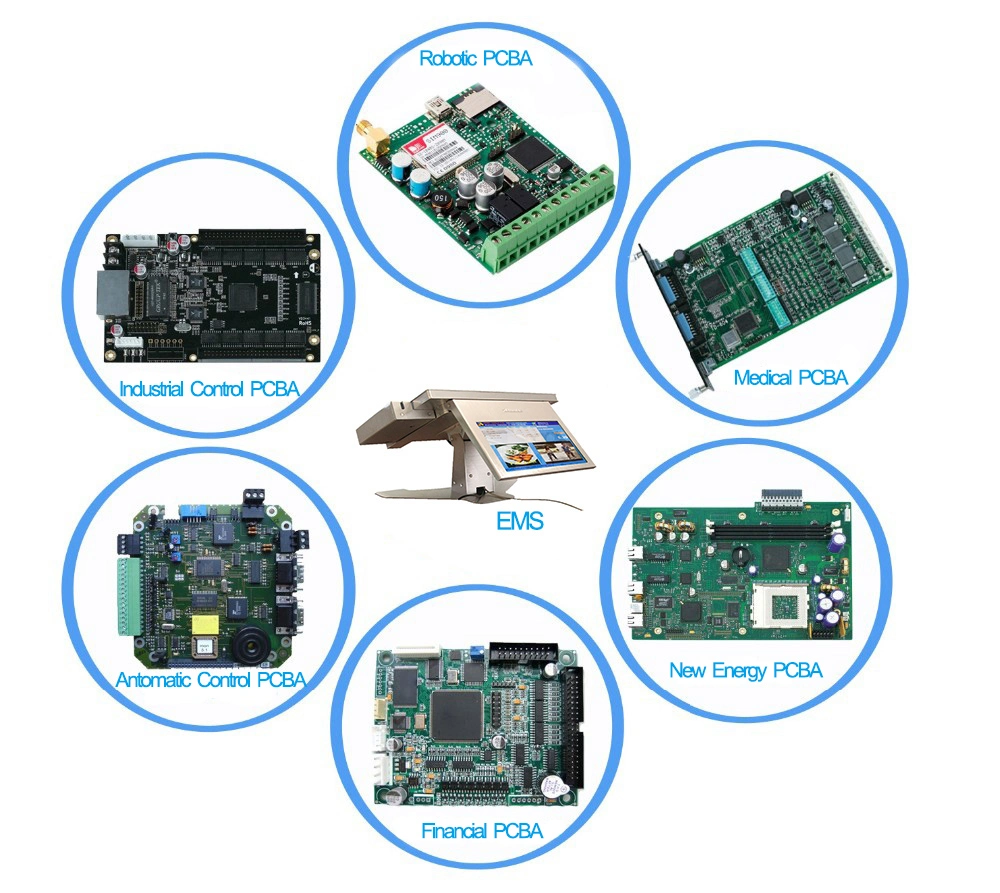 Why Choose us ?
High Quality
ISO9001 certified company, we have a very robust quality system and professional quality team;

Reliable Supply Chain,We have established long-term strategic cooperation with the top electronic components manufacturers all over the world, such as Xilinx, TI, Avnet, Future and etc;High manufacturing capability, our PCB can reach a max layers of 64, minimum placement component size can meet 0201 and minimum placement spacing of BGA can meet 0.3mm;We have complete inspection and testing for PCBA, including SPI,AOI,ICT,FCT,X-RAY,ROHS and aging.
Quick Response
We offer fast and opened BOM quotation to customers;10 years of cooperation experience with European and North American clients, quickly and professionally respond customer requirements.
One Stop Service
We professionally offer the service of PCB Assembly (SMT, DIP, MI, AI), component procurement, product final assembly, testing, PCBA conformal coating, electronic product design and peripheral products support, etc;Our factory is located in Shenzhen, and besides we have warehouses in Hongkong, Europe and North America. We can prepare boards at the warehouse which is close to the customer and afford Kanban service according to customer requirements.
We support Consumer Electronics OEM PCB Assembly Manufacturer business,Kingford is a professional one-stop PCBA service factory, welcome to inquire.
PCB Assembly Name:Industrial Control and Consumer Electronics OEM PCB Assembly Manufacturer
Surface Finishing:HASL, Enig, OSP, Immersion Au, AG, Sn
PCBA-Testing:X-ray, Aoi
Type:Rigid Circuit Board
Flame Retardant Properties:V0
Processing Technology:Electrolytic Foil
Insulation Materials:Organic Resin
Material:Complex
Transport Package:Packed in Carton
Specification:Copper
Layer:1-18 Layer
Copper Thickness:0.5oz-6oz
Board Thickness:0.2mm-4mm
Min.Hole Size:0.1mm (4 Mil)
Min.Line Spacing:0.1mm (4 Mil)
PCBA QC:X-ray, Aoi Test, Function Test(100% Test)
Specialised:Consumer, LED, Medical, Industrial, Control Board
Delivery:PCB, 7-10 Days;PCBA, 2-3weeks
Service:PCBA/PCB Assembly/PCB Circuit Board
Other Service:PCB/PCB Layout and Design, Engineering Support
Just upload Gerber files, BOM files and design files, and the KINGFORD team will provide a complete quotation within 24h.