Building 6, Zone 3, Yuekang Road,Bao'an District, Shenzhen, China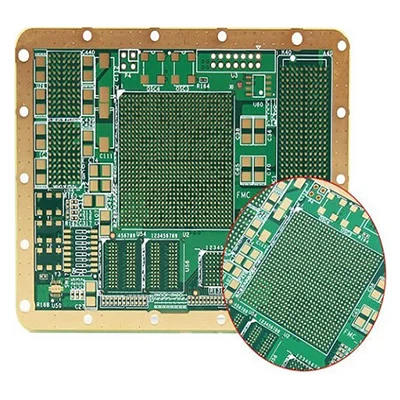 8 layers thick gold PCB circuit board
Name: 8-layer thick gold PCB circuit board
Application field: power equipment
Material: Shengyi TG170-S1000
Layers: 8 layers
Plate thickness: 1.6mm±0.1mm
Minimum aperture: 0.5mm
Minimum line width/line spacing: 0.255mm
Copper Thickness: 5OZ
Solder mask: green oil white characters
Surface Technology: Immersion Gold 5U
Product features: 5OZ copper + 5U gold
Product Details
Data Sheet
PCB gold plating is simply the process of depositing gold onto the surface of the circuit board by electroplating. SMT placement has always been difficult as ICs and IC pins have become denser. Electroplating is an important stage in PCB production. Different types of materials such as copper, nickel, tin and gold. However, the gold-plated circuit boards stand out. Because of its conductive properties, gold can be used to plate circuit boards.
Besides electrical conductivity, gold has other properties. These make it ideal for PCB plating. Experts use gold contacts on PCBs with membrane switches. Since gold plating has strong adhesion, you can attach gold particles to the PCB. Gold plating is a surface treatment method that uses electrochemical electroplating to deposit gold onto another metal.
Name: 8-layer thick gold PCB circuit board
Application field: power equipment
Material: Shengyi TG170-S1000
Layers: 8 layers
Plate thickness: 1.6mm±0.1mm
Minimum aperture: 0.5mm
Minimum line width/line spacing: 0.255mm
Copper Thickness: 5OZ
Solder mask: green oil white characters
Surface Technology: Immersion Gold 5U
Product features: 5OZ copper + 5U gold
Just upload Gerber files, BOM files and design files, and the KINGFORD team will provide a complete quotation within 24h.