Building 6, Zone 3, Yuekang Road,Bao'an District, Shenzhen, China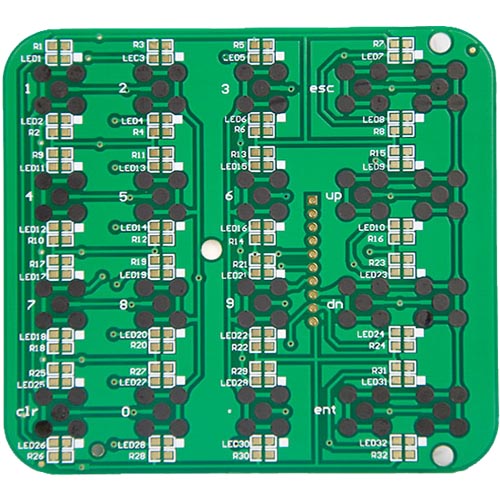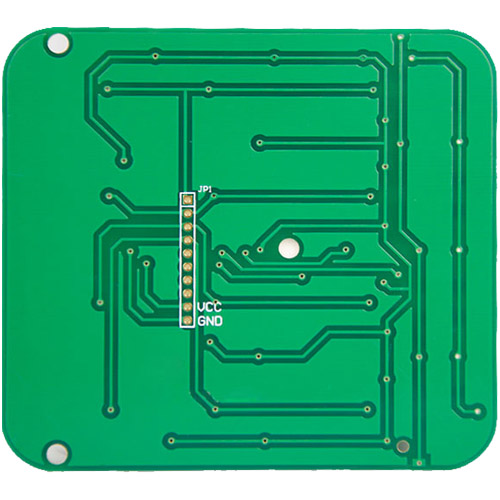 Double-sided carbon oil circuit board
Name: Double-sided carbon oil circuit board
Sheet: FR4
Plate thickness: 1.6mm
Layers: 2L
Size: 43.68*38.9mm
Minimum aperture: 0.33mm
Line width/moment: 0.32*0.36mm
Copper foil thickness: 35/35um
Surface treatment: carbon oil process
Solder mask/character: green oil white character
Product Details
Data Sheet
Carbon ink PCB (printed circuit board) is a carbon-based conductive ink (referred to as carbon ink) is coated on the PCB substrate, and cured to form a PCB with a carbon film conductive pattern. Now that the market's requirements for the production cost of PCB boards have been falling again and again, it is the general trend to replace the current expensive golden keys with carbon oil keys. Carbon oil board is a commonly used surface treatment method for single and double PCBs. Through a series of technical processes such as inspection, testing and burn-in testing, the PCB can work reliably for a long time.
Characteristics and uses of carbon ink PCB
Carbon ink has strong adhesion, strong peeling resistance, strong wear resistance, up to ≥1 million times, and resistance change rate ≤10%. Compared with other metals, the square resistance of conductive paste is relatively large. At present, the square resistance of the carbon oil plate can generally be controlled at ≤ 20 ohms, but the cost is low and the cost performance is high. Conductive pastes are key materials for electronic component packaging, electrodes and interconnection of electronic components. It mainly includes two kinds of aging conductive paste and curing conductive adhesive (conductive ink).
Carbon ink board application:
Carbon oil sheets are mainly used in thin film circuits, mobile phone soft circuits, medical equipment, communication equipment, automotive electronics, smart label RFID and many other industries. In the circuit board industry, it is mainly used in calculators and remote controls. It can replace copper plated hole, silver paste hole filling and copper paste hole filling process. Environmentally friendly and low-cost carbon paste hole filling is the mainstream trend of circuit board development. At present, Microsoft uses carbon oil to fill the holes on the power board, which can completely replace the double-layer board with copper-plated holes.
Printing carbon oil production capacity
1. Carbon ink gap:
Because carbon oil has good electrical conductivity, the carbon oil on the finished board needs to leave a gap to ensure that no short circuit occurs. Typically, the minimum clearance for the finished product should be 8mil (HOZ bottom copper) and 12mil (1-3oz bottom copper). If you open the film, the gap should increase.
2. Minimum alignment tolerance of carbon oil: +/-6mil
3. The size of the carbon oil window and the gap between the copper patterns: due to alignment tolerance and oil leakage, in order to ensure no copper exposure, the carbon oil must be 6mil (HOZ bottom copper) or 8mil (1-3OZ) bottom copper) greater than copper pads on one side. Accordingly, a gap of 6 mil (HOZ bottom copper) and 8 mil (1-3OZ bottom copper) is required between the carbon oil window and the surrounding copper pattern. This is to prevent the carbon oil from covering the surrounding copper pattern and avoid short circuits.
4. Carbon oil thickness
The thickness of the first silk screen carbon oil: 0.3-1.0mil, tolerance: +/-0.3mil. If the thickness of the carbon oil is required to be more than 1.0mil, the carbon oil needs to be reprinted twice. Thickness of secondary reprinted carbon oil: 1.0-2.0mil, tolerance: +/-0.4mil. The second reprint carbon oil film is 3mil smaller than the first, so two sets of tools need to be written on the MI.
Name: Double-sided carbon oil circuit board
Sheet: FR4
Plate thickness: 1.6mm
Layers: 2L
Size: 43.68*38.9mm
Minimum aperture: 0.33mm
Line width/moment: 0.32*0.36mm
Copper foil thickness: 35/35um
Surface treatment: carbon oil process
Solder mask/character: green oil white character
Just upload Gerber files, BOM files and design files, and the KINGFORD team will provide a complete quotation within 24h.