Building 6, Zone 3, Yuekang Road,Bao'an District, Shenzhen, China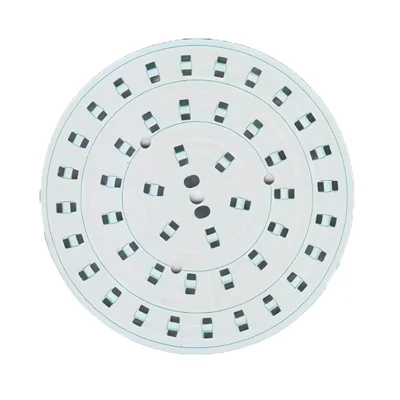 High thermal conductivity aluminum-based circuit board
Name: High thermal conductivity aluminum base circuit board
Number of layers: single-layer aluminum substrate
Plate thickness: 1.5MM
Copper thickness: 1OZ
Surface treatment: tin spray
Color: white oil black
Thermal conductivity: 3.0 (W/mk)
Withstand voltage KV: 1.5-3.5KV/AC
Application field: mining machine lighting
Product Details
Data Sheet
The heating welding foot of this product component uses the hollow port of the circuit board to directly welded to the aluminum base to reduce thermal resistance of the insulating layer. Because the weld and aluminum grassroots have good heat transfer and heat dissipation performance, it will achieve what will be generated. The calories can be transmitted as soon as possible, which increases the heat transmission rate.
The thermal conductivity can reach: 250W/m-K above
Name: High thermal conductivity aluminum base circuit board
Number of layers: single-layer aluminum substrate
Plate thickness: 1.5MM
Copper thickness: 1OZ
Surface treatment: tin spray
Color: white oil black
Thermal conductivity: 3.0 (W/mk)
Withstand voltage KV: 1.5-3.5KV/AC
Application field: mining machine lighting
Just upload Gerber files, BOM files and design files, and the KINGFORD team will provide a complete quotation within 24h.