One - stop Electronic Manufacturing Services(EMS) Solution provider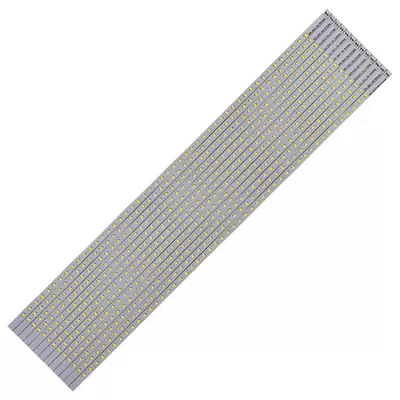 SMD 2835 LED Light Module PCB Assembly
Name: SMD 2835 LED Light Module PCB Assembly
Number of layers: 1 layer
PCB thickness: 1.0-2.0mm
Copper Thickness: 1oz-2oz
Surface: HAL/OSP/LF-HAL
Thermal conductivity: 1.0-3 0w/mk
Solder Mask Type: Liquid Photosensitive Solder Marker
Accepting OEM orders for SMT and A/I assembly projects
Product Details
Data Sheet
1. The chip adopts high-power back aluminum plating process, the unique vertical heat dissipation of SMD lamp beads, with heat sink at the bottom, the chip directly conducts the heat sink, the heat dissipation area is larger than that of 3014, and the heat dissipation is faster and more direct.
2. The whole surface lighting scheme is adopted, the light-emitting surface is rectangular, the light-emitting efficiency is high, and the light-emitting area is 9.18mm², which is 2 times that of 3528 lamp beads and 2.5 times that of 3014 lamp beads.
3. High brightness, a single lamp can reach 22Lm, the brightness is 2.8 times that of 3528 lamp beads, and 1.8 times that of 3014 lamp beads. 4. The thickness of the lamp bead is thin, only half of the thickness of the 3528 lamp bead, and the light-emitting angle is 120 degrees. In the finished product application, the light spot is more uniform and the illumination is wider.
5. 2835 is an upgraded new light source, which is widely used. It overcomes the shortcoming of 3014's small side emitting angle and effectively solves the point light source phenomenon in 3528 lighting applications.
6. To increase the transmittance by 10%, 85-95% translucent cover can be used, which is particularly obvious on LED fluorescent lamps.
7. The use of special specifications can effectively replace the lamp beads 5050.
The SMD 2835 LED lamp module produced by Kingford is assembled with high-quality pcb, with high brightness and thin lamp beads. Welcome to consult.
Name: SMD 2835 LED Light Module PCB Assembly
Number of layers: 1 layer
PCB thickness: 1.0-2.0mm
Copper Thickness: 1oz-2oz
Surface: HAL/OSP/LF-HAL
Thermal conductivity: 1.0-3 0w/mk
Solder Mask Type: Liquid Photosensitive Solder Marker
Accepting OEM orders for SMT and A/I assembly projects
We use cookies to optimize our website and our service.