Long Hui No.6, The 3th Industrial Park of Fuqiao, Fuhai Street,Bao'an,Shenzhen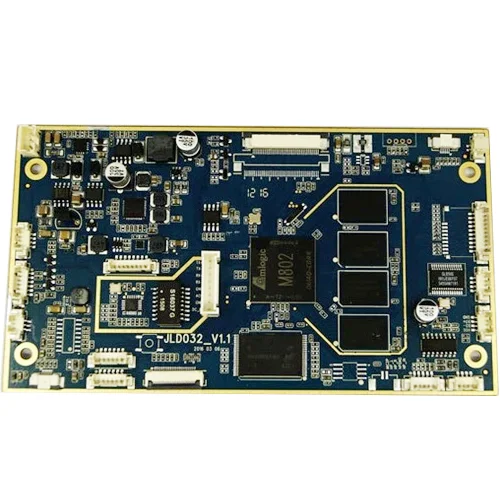 Automotive Control Module PCB Assembly
PCB Assembly Name:Automotive Control Module PCB Assembly
Surface Finishing:HASL, Enig, OSP, Immersion Au, AG, Sn
PCBA-Testing:X-ray, Aoi
Flame Retardant Properties:V0
Processing Technology:Electrolytic Foil
Insulation Materials:Organic Resin
Material:Complex
Applicaton:Industrial PCB PCBA
Transport Package:Packed in Carton
Specification:Copper
Layer:1-18 Layer
Copper Thickness:0.5oz-6oz
Board Thickness:0.2mm-4mm
Min.Hole Size:0.1mm (4 Mil)
Min.Line Spacing:0.1mm (4 Mil)
PCBA QC:X-ray, Aoi Test, Function Test(100% Test)
Specialised:Consumer, LED, Medical, Industrial, Control Board
Delivery:PCB, 7-10 Days;PCBA, 2-3weeks
Service:PCBA/PCB Assembly/PCB Circuit Board
Other Service:PCB/PCB Layout and Design, Engineering Support
Product Details
Data Sheet
Product Description
PCBA/PCB Assembly/Electronic Assembly/PCB Board/Circuit Board/Printed Circuit Board
| | |
| --- | --- |
| Layer: | 1-40 layer |
| Surface: | HASL/OSP/ENIG/ImmersionGold/Flash Gold/Gold finger ect. |
| Copper thickness: | 0.25 Oz -12 Oz |
| Material: | FR-4,Halogen free,High TG,Cem-3,PTFE,Aluminum BT,Rogers |
| Board thickness | 0.1 to 6.0mm(4 to 240mil) |
| Minimum line width/space | 0.076/0.076mm |
| Minimum line gap | +/-10% |
| Outer layer copper thickness | 140um(bulk) 210um(pcb prototype) |
| Inner layer copper thickness | 70um(bulk) 150um(pcb protytype) |
| Min.finished hole size(Mechanical) | 0.15mm |
| Min.finished hole size (laser hole) | 0.1mm |
| Aspect ratio | 10:01(bulk) 13:01(pcb prototype) |
| Solder Mask Color | Green,Blue,Black,White,Yellow,Red,Grey |
| Tolerance of dimension size | +/-0.1mm |
| Tolerance of board thickness | <1.0mm +/-0.1mm |
| Tolerance of finished NPTH hole size | +/-0.05mm |
| Tolerance of finished PTH hole size | +/-0.076mm |
| Delivery time | Mass:10~12d/ Sample:5~7D |
| Capacity | 35000sq/m |
OUR SERVICE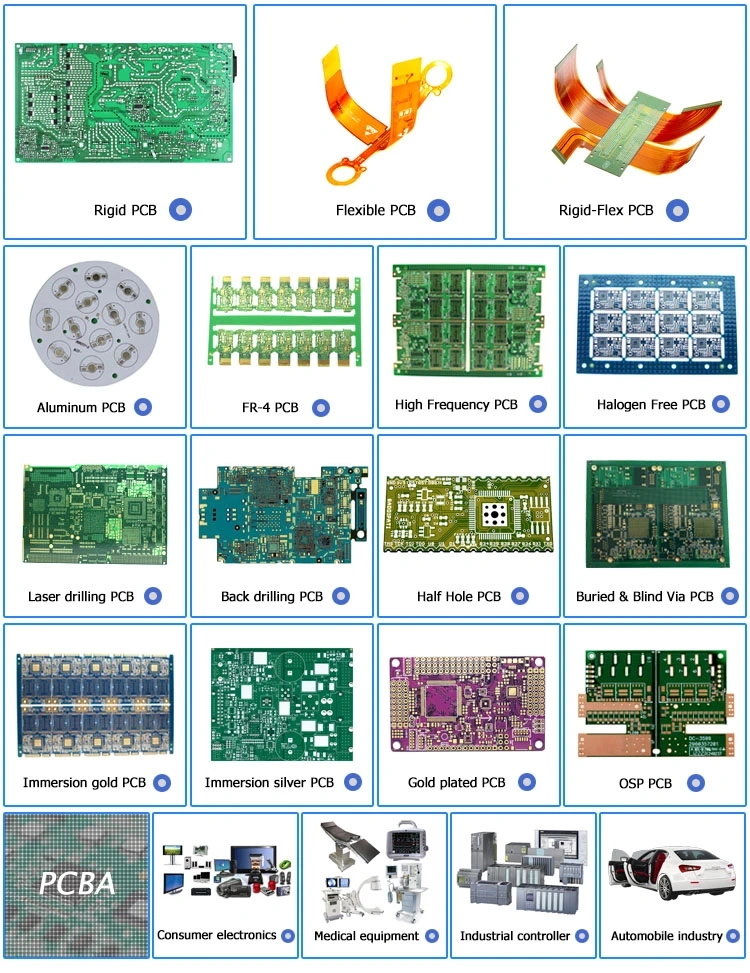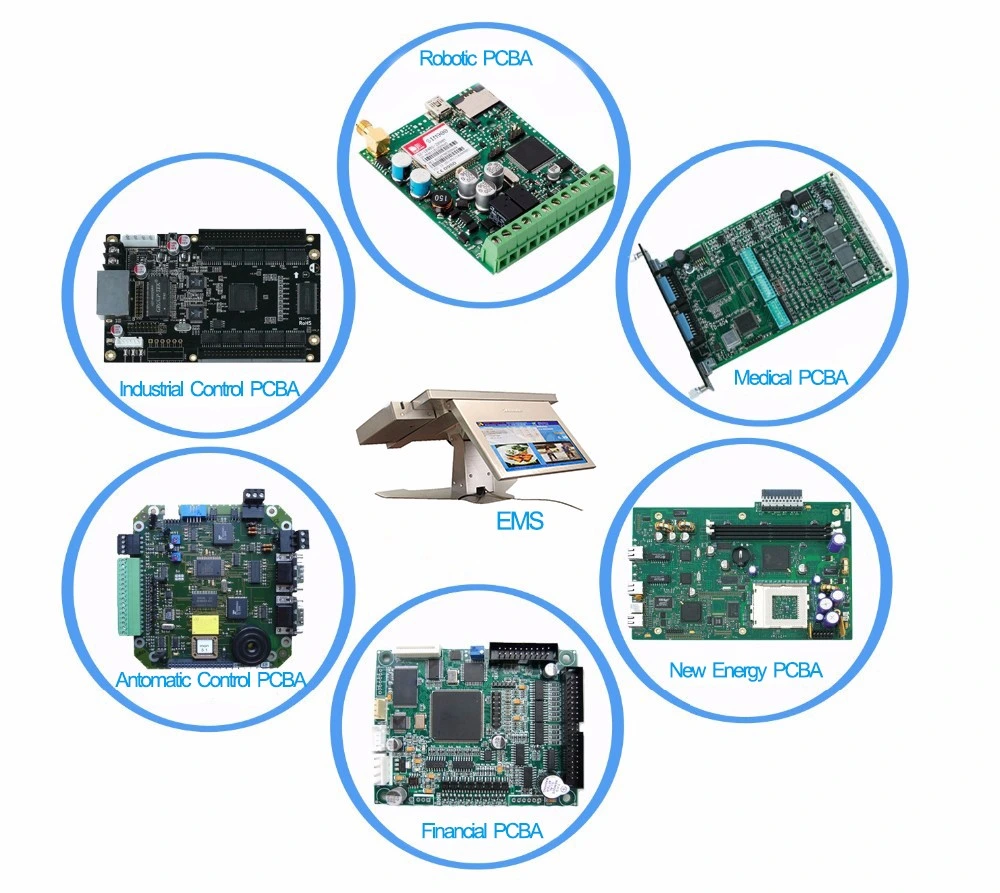 1、We offer high quality PCB & PCBA Service for Industrial control Board, Financial Industrial Board, Automatic PCBs, New enery controller PCBAs, Medical equipment printed circuits and other high level circuit boards.
2、We offer one-stop service for PCB , including PCB manufacturing, parts sourcing, X-RAY, AOI testing, Function testing, final assembly if requested.
COMPANY PROFILE
We have more than 10 years of SMT manufacturing experience, well appointed SMT ,DIP and assembly lines, offering one stop service from SMT,FPC,DIP,EMS, conformal coating, testing, final assembly, component procurement ,design, peripheral products support and so on. we are equipped with High-speed and accurately SMT Equipment ,and we provide a whole range of SPI,AOI,ICT,FCT,X-RAY,ROHS and aging testing for products. All ourshop floors are dust free, all lines are lead free, we are ISO9001 certified company.
We support Automotive Control Module PCB Assembly business,Kingford is a professional one-stop PCBA service factory, welcome to inquire.
PCB Assembly Name:Automotive Control Module PCB Assembly
Surface Finishing:HASL, Enig, OSP, Immersion Au, AG, Sn
PCBA-Testing:X-ray, Aoi
Flame Retardant Properties:V0
Processing Technology:Electrolytic Foil
Insulation Materials:Organic Resin
Material:Complex
Applicaton:Industrial PCB PCBA
Transport Package:Packed in Carton
Specification:Copper
Layer:1-18 Layer
Copper Thickness:0.5oz-6oz
Board Thickness:0.2mm-4mm
Min.Hole Size:0.1mm (4 Mil)
Min.Line Spacing:0.1mm (4 Mil)
PCBA QC:X-ray, Aoi Test, Function Test(100% Test)
Specialised:Consumer, LED, Medical, Industrial, Control Board
Delivery:PCB, 7-10 Days;PCBA, 2-3weeks
Service:PCBA/PCB Assembly/PCB Circuit Board
Other Service:PCB/PCB Layout and Design, Engineering Support
Just upload Gerber files, BOM files and design files, and the KINGFORD team will provide a complete quotation within 24h.