Kingford focus on the high-quality PCBA order demand of "Multiple varieties, medium and small batch, and short lead time".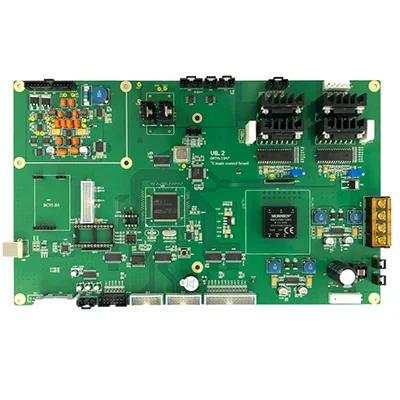 Industrial Control Turnkey PCB Assembly
Name: Industrial Control Turnkey PCB Assembly
Material: Fiberglass Epoxy
MechanICal rigidity: rigid
Substrate: Copper
Model: FR-4
Material Type: Fr4 Tg130/140, Fr4 High Tg170
Specifications: Rohs, UL, ISO9001
HS Code: 853409000
Dielectric: FR-4
Flame retardant properties: HB
Processing technology: electrolytic foil
Insulation material: organic resin
Product Details
Data Sheet
Industrial control motherboards are motherboards used in industrial occasions and are used by industrial computers. They can adapt to wide temperature environments, harsh environments, and long-term high-load work.
1. What is an industrial control motherboard? (meaning industrial control motherboard)
The industrial control motherboard is a special motherboard mainly used for industrial computers to help deal with industrial projects. The industrial control motherboard is a card-shaped composite board. Like commercial motherboards, it is filLED with various industrial components and covered with various sockets. , From the board type, the industrial control motherboard is relatively SMAll, and there are two or three or four PCL ports! There will also be two or more memory sockets, and the industrial control motherboard uses low-power chips to save money. problems such as energy consumption and high temperature during long-term operation. Moisture and high temperature resistance, strong adaptability to the environment, so when you use it, you must distinguish between commercial motherboards and industrial control motherboards!
2. The characteristICs of industrial control motherboard!
Industrial control motherboards are mainly suitable for design, industrial and other project occasions. Therefore, most of the machines used in engineering projects use industrial control motherboards. Using industrial control motherboards can improve efficiency, reduce labor maintenance times and costs and their use costs. Industrial control motherboards In terms of design, materials and other aspects, the performance is very outstanding, and it has corresponding stability, the accident rate is relatively low, the relative stability is relatively high, the failure report rate is relatively low, and there are also strong third-party etc. Some functions, in addition, the industrial control motherboard is suitable for operation between -40 degrees and 90 degrees. The temperature range and humidity ratio can also be between 0 and 95%. It also has strong self-radiation control, which is very suitable for metal dust. Or it works normally under the working state of ordinary dust!
3. The main function of industrial control motherboard
The industrial control motherboard is mainly suitable for industrial industrial control equipment, GPS navigation, and other production of precision data! Some units need a stable background of the system, then the industrial control organization can play its role, and the industrial control motherboard can help individuals reduce costs , The benefits of science and technology have increased, the benefits have increased, and the cost of labor has also been reduced, but the relative price is also relatively high, and the application range of industrial control motherboards is getting wider and wider! At the same time, the economic status is gradually improving!
Basic content
The industrial control motherboard is a motherboard used in industrial occasions. It is adopted by industrial computers. It can adapt to a wide temperature environment according to requirements, can adapt to harsh environments, and can work under high load for a long time.
The so-called industrial control motherboard
CPU can be a common plug-in type, and some of them are board-mounted

Memory slot is usually 1-2

Integrated Graphics
There are many I/O devices, but some motherboards will omit the printing port

PCI slot is usually about 2-3

Plate type is relatively small
The motherboard that really meets the industrial control standard is divided into two parts!
The first part is the "Industrial Control Motherboard" part! ! The function of this part is the same as the motherboard we use! ! However, the industrial control motherboard is designed as a card! It's like a giant graphics card! ! There are two rows of gold fingers on the bottom of the motherboard! However, this section does not contain any expansion slots!
The second part is the "Expansion Interface Board" part! There are several PCI and ISA slots on it! ! There is also a slot for connecting the "industrial control motherboard"! !
During the actual installation, the "expansion interface board" is fixed on the bottom plate of the chassis! And the "industrial control motherboard" is plugged into the "expansion interface board"! It sounds a little weird...but this structure helps to add multiple PCI or ISA devices.
Structure: Embedded PC/104 industrial motherboard
Processor: On-board NS GEODE GX1 CPU, main frequency 200/233/266/300/333MHz optional
chipset: NS GEODE CS5530A
System memory: a notebook memory interface (144 PIN SO-DIMM)
BIOS: Award BIOS, plug and play
Display interface: Support CRT, 18bit TFT LCD, 4M shared memory.
The maximum VGA resolution is 1024×768×24bpp﹑1280×1024×8bpp;
LCD TFT maximum support 1024×768×18bpp
Enhanced IDE: Support standard hard disk and CD-ROM, can carry CF adapter card
Super I/O: Winbond W83977 chip, two serial ports, one parallel port, one keyboard/mouse interface, no floppy drive interface
Watchdog circuit: 16-level watchdog timer function, 1 second time interval, the time can be set to 0-15 seconds
Network: Realtek 8139DL 10M/100M network card
USB: 2-way USB1.1 interface
Power supply: +5V@1.4A (maximum), single power +5V power supply
Dimensions: 90.2mm×95.9mm
PCB board layers: 8 layers, strong anti-electromagnetic interference ability
Working environment: temperature 0°C to 60°C, relative humidity 5% to 95%, non-condensing
Anti-EMI design: serial port, parallel port, CRT interface, keyboard/mouse interface anti-EMI design
Serial port features: COM2 can be configured as RS232/RS485 without jumpers, and COM1 is standard RS232
Featured recommendation: High performance, PC/104 size Pentium MMX-class motherboard, with network card, USB
Main applications: industrial control equipment, GPS navigation, sewage online monitoring, air online monitoring, instrumentation, professional equipment controllers, military industry, government agencies, telecommunications, banks, electric power, car LCD, monitor, video doorbell, portable DVD, LCD TV, environmental protection equipment, etc.
Characteristic
Working temperature and heat dissipation: Industrial control motherboards can work stably and without failure between -20°C and 60°C, and even some industrial control motherboards adopt special wide temperature design, and the temperature range can reach -20°C to 70°C. This is a severe test for the heat dissipation scheme and heat dissipation efficiency of the organization. In the heat dissipation design of the industrial control motherboard mechanism, an all-aluminum mechanism shell and a special heat dissipation design must be used, and special treatment must be carried out for large heat generating units such as the CPU, north and south bridges, and hard drives to ensure the normal operation of the industrial control motherboard and the whole machine.
Management: In addition to providing SIMilar remote connection management, the industrial control motherboard can also realize remote unattended automatic power on and off. Through the embedded IPMB and SMNP-1000 modules, the management, recording and transmission of real-time system operation information can be realized.
Protection function: The industrial control motherboard is specially designed to realize the functions of watchdog automatic restart and anti-surge impact in case of abnormal situations such as crash, and fully guarantee the high stability of the system in harsh environments.
MARKet size: Industrial control motherboards are mainly customized products, with relatively small output and market size, and the cost of switching to other brands of motherboards is high. Therefore, users who choose industrial control motherboards generally do not easily switch to other brands.
We provide Industrial Control Turnkey PCB Assembly, Turnkey PCB Assembly Services. Kingford is your one-stop Turnkey PCB assembly factory.
Name: Industrial Control Turnkey PCB Assembly
Material: Fiberglass Epoxy
MechanICal rigidity: rigid
Substrate: Copper
Model: FR-4
Material Type: Fr4 Tg130/140, Fr4 High Tg170
Specifications: Rohs, UL, ISO9001
HS Code: 853409000
Dielectric: FR-4
Flame retardant properties: HB
Processing technology: electrolytic foil
Insulation material: organic resin