Kingford focus on the high-quality PCBA order demand of "Multiple varieties, medium and small batch, and short lead time".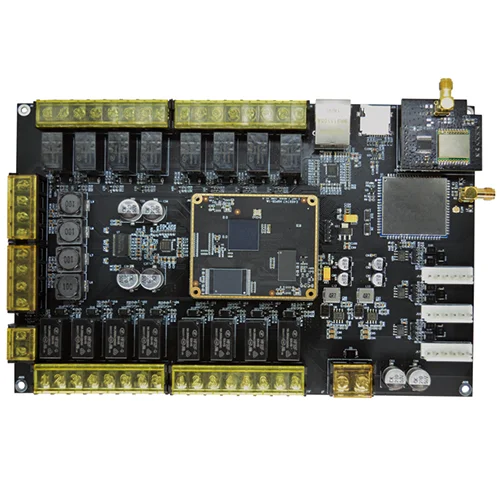 PCB Design of Intelligent Environment Controller
Name: PCB Design of Intelligent Environment Controller
Power: 24VDC
DevICe interface: RS485*3 (dimming color sensor)
Network interface: RJ45*1 (100M)
Wireless communication: 4G *1 (full Netcom MQTT protocol) LORA *1
Output: DO *16 (220VAC@10A)
Amplifier: 60W audio amplifier
Storage: 512M DDR3 8G EMMC
System: Linux
Relay output: remote control, timing control
Color matching function: 485 control color matching
Dimming function: 485 control dimming
RS485: Transparent transmission to collect sensor data
Network communication: The interface adopts MQTT consistently
Remote upgrade: support 4G, network port online upgrade
Lora communication: control downlink modules and sensors through lora
Product Details
Data Sheet
Environmental controllers are used to control environmental factors such as temperature, humidity and air pressure. The environment to be controlLED can be an offICe or work space, or it can be indoors for testing or processing purposes.
Name: PCB Design of Intelligent Environment Controller
Power: 24VDC
DevICe interface: RS485*3 (dimming color sensor)
Network interface: RJ45*1 (100M)
Wireless communication: 4G *1 (full Netcom MQTT protocol) LORA *1
Output: DO *16 (220VAC@10A)
Amplifier: 60W audio amplifier
Storage: 512M DDR3 8G EMMC
System: Linux
Relay output: remote control, timing control
Color matching function: 485 control color matching
Dimming function: 485 control dimming
RS485: Transparent transmission to collect sensor data
Network communication: The interface adopts MQTT consistently
Remote upgrade: support 4G, network port online upgrade
Lora communication: control downlink modules and sensors through lora
We use cookies to optimize our website and our service.