Building 6, Zone 3, Yuekang Road,Bao'an District, Shenzhen, China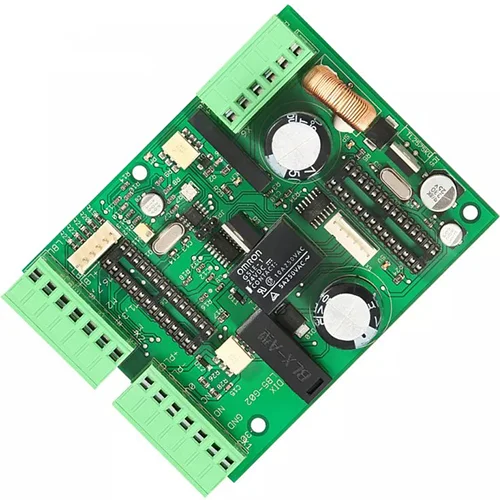 Industrial control power board PCB copy board
Name: Industrial control power board PCB copy board
The number of layers that can be copied: 1-32 layers
Minimum line width and line spacing: 3mil
Minimum laser aperture: 4mil
Minimum mechanical aperture: 8mil
Copper foil thickness: 18-175цm (standard: 18цm35цm70цm)
Peel strength: 1.25N/mm
Minimum punching hole diameter: single side: 0.9mm/35mil
Minimum hole diameter: 0.25mm/10mil
Aperture tolerance: ≤φ0.8mm±0.05mm
Hole tolerance: ±0.05mm
Hole wall copper thickness: double-sided/multi-layer: ≥2um/0.8mil
Hole resistance: double-sided/multi-layer: ≤300цΩ
Minimum line width: 0.127mm/5mil
Minimum pitch: 0.127mm/5mil
Surface treatment: rosin spray tin electric gold, anti-oxidation, chemical gold, carbon oil
Warpage: ≤0.7%
Product Details
Data Sheet
Digital Power Control Board
The digital power control board is similar to the switching power supply control board in the market. Compared with the early transformer power supply, the volume is smaller and the efficiency is higher; it is mainly used in some high-power and front-end power control fields. There are several types of digital power control boards: power digital power control board module, lithium-ion battery charger control board, solar charging control board, intelligent battery power monitoring control board, high pressure sodium lamp ballast control board, high pressure metal halide lamp control board Wait.

Name: Industrial control power board PCB copy board
The number of layers that can be copied: 1-32 layers
Minimum line width and line spacing: 3mil
Minimum laser aperture: 4mil
Minimum mechanical aperture: 8mil
Copper foil thickness: 18-175цm (standard: 18цm35цm70цm)
Peel strength: 1.25N/mm
Minimum punching hole diameter: single side: 0.9mm/35mil
Minimum hole diameter: 0.25mm/10mil
Aperture tolerance: ≤φ0.8mm±0.05mm
Hole tolerance: ±0.05mm
Hole wall copper thickness: double-sided/multi-layer: ≥2um/0.8mil
Hole resistance: double-sided/multi-layer: ≤300цΩ
Minimum line width: 0.127mm/5mil
Minimum pitch: 0.127mm/5mil
Surface treatment: rosin spray tin electric gold, anti-oxidation, chemical gold, carbon oil
Warpage: ≤0.7%
Just upload Gerber files, BOM files and design files, and the KINGFORD team will provide a complete quotation within 24h.