Kingford focus on the high-quality PCBA order demand of "Multiple varieties, medium and small batch, and short lead time".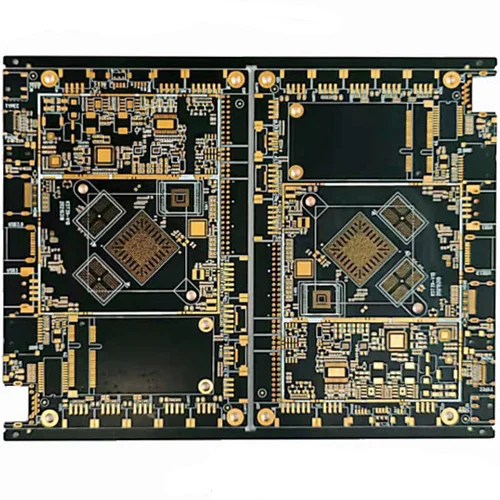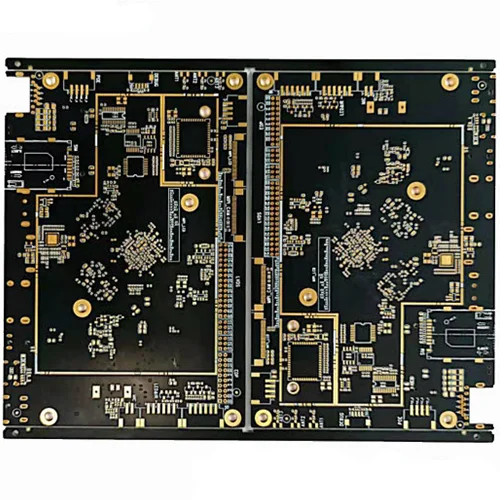 6-layer industrial control PCB motherboard
Name: 6-layer industrial control PCB motherboard
Layers: 6L
Sheet: FR4 TG150
Plate thICkness: 1.6mm
Panel size: 190*150mm/2
Outer copper thickness: 35μm
Inner layer copper thickness: 35μm
Minimum through hole: 0.20mm
Minimum BGA: 0.35mm
Line width line spacing: 3/3mil
Surface treatment: Immersion gold 2U''
Application field: industrial control
Product Details
Data Sheet
What is a 6-layer PCB?
A 6-layer PCB is a multilayer printed circuit board that contains six sheets of conductive material. It's actually mostly a four-layer PCB with two additional signal layers placed between the surfaces.
A standard six-layer PCB consists of six layers listed below −
 Two outer layers
 Two inner planes
 Two inner layers
In addition to providing superior routing for high-speed and low-speed data, the six-layer PCB's architecture reduces electromagnetIC interference (EMI). To route high-speed communications, two internal planes must be used in conjunction with two surface layers.
What is a 6-layer PCB application?
According to industry experts, 6-layer PCBs are considered ideal for a variety of industrial applications due to their light weight and compact design. The 6-layer PCB application is as follows:
Industrial Electronics
Consumer electronics and industrial electronics are completely different. They withstand harsh environments such as heat, pressure, vibration, stress, grit and moisture. They are designed to run for a long time and work continuously. This case applies to 6-layer PCBs. Today, 6-layer PCBs outlast other MARKet alternatives.
medical equipment
In the medical field, electronics are essential. Like all other industries that rely on electronics, the medical industry is miniaturizing.
With the development of non-invasive treatment methods gaining momentum, the demand for tiny devices in the medical field is increasing. 6-layer PCBs are ideal for these devices due to their compact size, low weight and other powerful features.
MRI, X-ray, CT scan, blood pressure, IR temperature monitoring are some examples of medical devices that use 6-layer PCBs.
Computers and Equipment
We can no longer imagine life without computers. Almost all computers and related equipment use 6-layer PCBs due to their excellent space saving and handling characteristics. The development of these PCBs may outperform other technologies while saving money.
Consumer electronics products
Consumer electronics include a wide variety of common electrical devices. Communication devices such as smartphones and laptops, entertainment devices such as smart TVS and media players, and household appliances such as microwave ovens and washing machines are examples of such products.
Most of these gadgets have 6-layer PCBs compared to traditional single-layer PCBs. Why? A 6-layer PCB helps them operate and is small.
Military, AerOSPace and Defense
Like the aforementioned industries, the military and defense sectors are prioritizing 6-layer boards. This type of PCB is popular for its small size, light weight, practicality and durability.
Surveillance, aircraft defense systems, radar systems, and automated weapons use 6-layer printed circuit boards. High circuits require 6-layer PCBs to withstand harsh environments where high temperatures and high voltages can damage grade components.
Telecom Electronics
Many communication devices, such as GPS and satellite systems, use 6-layer PCBs for communication systems, which require durability and functionality. With the development of wireless communication, there is an increasing demand for high-performance small devices. The 6-layer circuit board easily meets the needs.
Other telecom electronics applications include power amplifiers, telecom towers, radar systems, and more.
What are the advantages of a 6-layer PCB?
On the technical side, 6-layer PCBs offer many design advantages. If you use a 6-layer PCB, you get these advantages:
Small size
A major and recognized advantage of using 6-layer PCBs is their size. Due to their layered architecture, they are naturally smaller than other PCBs with comparable performance.
This provides a significant advantage to contemporary electronics as the current trend is towards smaller, more compact but more powerful devices such as smartphones, computers, tablets and smart watches.
high quality
Due to the amount of work and preparation required to build a 6-layer PCB, these types of PCBs are qualitatively more efficient than single-layer and double-layer boards. Therefore, they tend to be more stable.
increased durability
By their nature, 6-layer PCBs can be tough. Not only are these 6-layer printed circuit boards able to support their loads, but they can also handle the pressure and temperature required to bond them firmly.
more powerful
They are densely packed in multiple layers on a single PCB. These narrow end plates make their connections tighter and help them achieve higher speed and reliability with reduced size.
single connection point
They are designed to operate independently of other PCB components. Therefore, they only need one connection point instead of multiple connection points required by several single-layer PCBs.
This also benefits electronics designers because only one connection point is required in the finished product. This is great for small devices and gadgets.
However, these characteristics make 6-layer PCBs ideal for mobile devices and high-performance electronics. Now that so many industries are adopting mobile solutions, 6-layer PCBs are finding new possibilities.
Name: 6-layer industrial control PCB motherboard
Layers: 6L
Sheet: FR4 TG150
Plate thICkness: 1.6mm
Panel size: 190*150mm/2
Outer copper thickness: 35μm
Inner layer copper thickness: 35μm
Minimum through hole: 0.20mm
Minimum BGA: 0.35mm
Line width line spacing: 3/3mil
Surface treatment: Immersion gold 2U''
Application field: industrial control