Kingford focus on the high-quality PCBA order demand of "Multiple varieties, medium and small batch, and short lead time".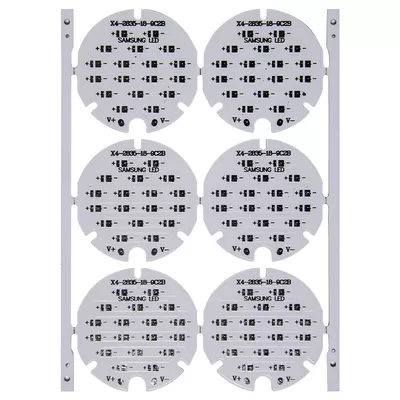 2OZ oz aluminum circuit board
Name: 2OZ oz aluminum base circuit board
Number of layers: single-sided aluminum substrate
Plate thICkness: 2.0MM
Copper thickness: 2OZ oz
Color: white text
Surface treatment: spray tin process
Breakdown voltage: 3000V
Thermal conductivity - thermal conductivity (W/m-k): 2.0
Application field: LED lighting
Product Details
Data Sheet
The thICker the copper, the greater the loaded current load, and the transmission current and heat will greatly increase. For example, the 2OZ copper thickness will be significantly higher than the heat and current of the 1OZ Anshita thick circuit board, which greatly improves the circuit performance and ensures the product of the product. Quality, which increases the life of electrical appliances.
Name: 2OZ oz aluminum base circuit board
Number of layers: single-sided aluminum substrate
Plate thICkness: 2.0MM
Copper thickness: 2OZ oz
Color: white text
Surface treatment: spray tin process
Breakdown voltage: 3000V
Thermal conductivity - thermal conductivity (W/m-k): 2.0
Application field: LED lighting
We use cookies to optimize our website and our service.