Kingford focus on the high-quality PCBA order demand of "Multiple varieties, medium and small batch, and short lead time".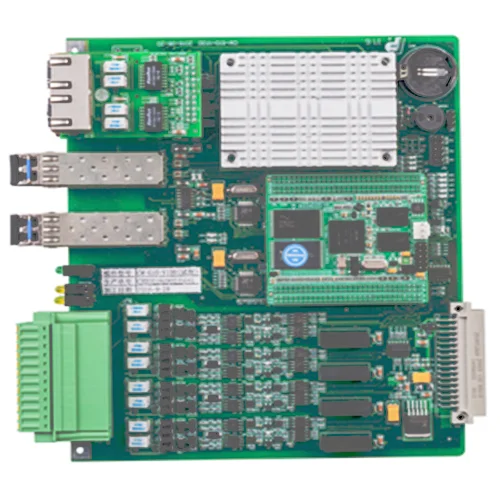 Intelligent Industrial Communication PCB Assembly
technICal indicators
1. Product-oriented regulations, mainly including: frequency converter, motor protection, actuator, low-voltage switch protection
2. Redundancy solution based on PROFIBUS slave redundancy profile
3. Unified version size 45MM×70MM
4. Unified user interface UART (1M bits/s), SPI (1MHZ)
5. Working temperature: -25~+60℃
6. Power supply: 3.3V/120mA + 5V/80mA, 2 groups of regulated voltage isolation
7. PROFIBUS-DP protocol:
8. DB9 socket, isolated 2KV, RS485 output;
9. Baud rate 9.6K~12M
10. DP/V0/V1(C1+C2)
11. PROFINET-IO protocol:
12. 2×RJ45 socket (with indicator light), isolated 2KV
13. Built-in switching chip, can realize daisy chain topology connection
14. PROFINET IO RT/IRT real-time data communication
Product Details
Data Sheet
Intelligent Industrial CommunICation board
CM-600 series fiber optic switching communication management unit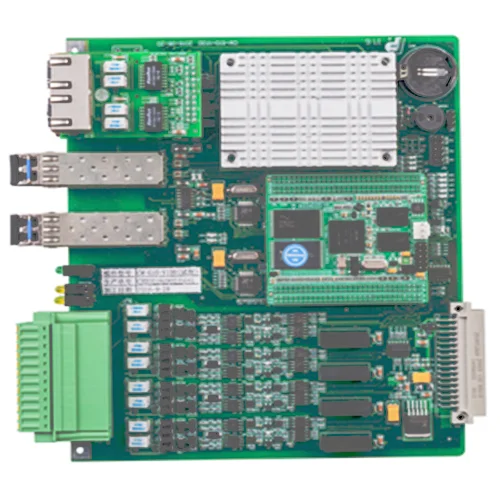 Intelligent industrial communication boards provide various communication conversion boards used in new energy power generation and SMArt grid fields to realize functions such as serial server, optical fiber Ethernet conversion and 61850 protocol access.
CM-600 series optical fiber switching communication management unit is an embedded communication management machine board card with optical fiber ring network function developed for industrial power distribution automation, new energy power generation monitoring and other fields, integrating optical fiber Ethernet switch and communication management machine Function, can be applied to large-scale ground photovoltaic power plants.
The device can provide 2 optical fiber interfaces, 4 Ethernet interfaces, 8 RS485 communication interfaces, support various communication protocols such as IEC60870-5-104, network 103, IEC61850, MODBUS-RTU and MODBUS-TCP, and support direct access to domestic Mainstream power station monitoring system. Support 1000M optical fiber interface, provide large-capacity data transmission channel, realize long-distance networking communication in power plant area, provide wireless communication and WIFI interface, support digital CAMera, IP phone and other intelligent equipment access, strong anti-interference ability, communication reliability high.
CRD-200 Gigabit Industrial Ethernet Switch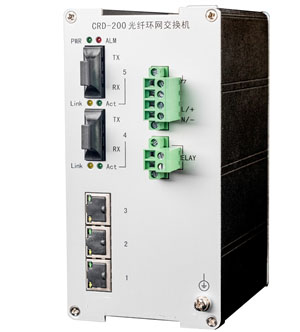 CRD-200 Gigabit Industrial Ethernet switch is specially designed and developed for industrial high-speed communication network applications. This switch provides a high-end industrial Ethernet communication solution for flexible and changeable industrial application requirements, breaking through the communication bottleneck of the 100M backbone network, making industrial communication smoother, more reliable, and faster, and satisfying customers' desire to increase added value Application and continuous innovation needs.
CRD-200 Gigabit Industrial Ethernet Switches can be used for SIMple plug-and-play applications, or complex network management methods to meet the various needs of users. All electrical ports support auto-negotiation, 10/100Mbps full-duplex and half-duplex, flow control, Auto-MDI/MDI-X and other functions. Through Web management or SNMP network management, this module can provide advanced management functions, such as: Mwring, virtual LAN, Trunk, quality of service, IGMPSnooping, rate control, port mirroring, static MAC address forwarding table, diagnostic function, Email/Relay fault alarm and A series of commonly used advanced management functions such as firmware online upgrade.
The CRD-200 Gigabit Industrial Ethernet switch is designed and developed for industrial applications. It provides a self-recovery function after the Ethernet communication link is disconnected, and its recovery time is less than 20 milliseconds.
CRD-200 Gigabit Industrial Ethernet Switches can use ordinary 100M or 1000M ports for ring formation to provide faster recovery rate and communication bandwidth.
CRD-200 Gigabit Industrial Ethernet switch can provide Ethernet with link redundancy backup.
We are a professional PCBA one-stop assembly factory, Kingford supports Intelligent Industrial Communication PCB Assembly business, welcome to place an order
technICal indicators
1. Product-oriented regulations, mainly including: frequency converter, motor protection, actuator, low-voltage switch protection
2. Redundancy solution based on PROFIBUS slave redundancy profile
3. Unified version size 45MM×70MM
4. Unified user interface UART (1M bits/s), SPI (1MHZ)
5. Working temperature: -25~+60℃
6. Power supply: 3.3V/120mA + 5V/80mA, 2 groups of regulated voltage isolation
7. PROFIBUS-DP protocol:
8. DB9 socket, isolated 2KV, RS485 output;
9. Baud rate 9.6K~12M
10. DP/V0/V1(C1+C2)
11. PROFINET-IO protocol:
12. 2×RJ45 socket (with indicator light), isolated 2KV
13. Built-in switching chip, can realize daisy chain topology connection
14. PROFINET IO RT/IRT real-time data communication
We use cookies to optimize our website and our service.