Kingford focus on the high-quality PCBA order demand of "Multiple varieties, medium and small batch, and short lead time".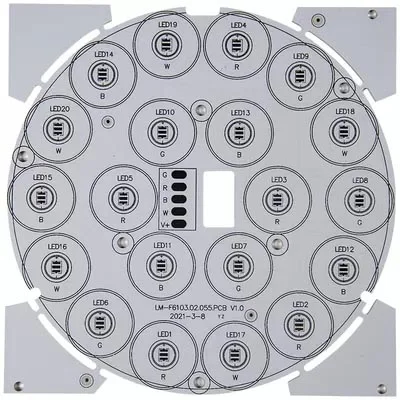 12W 18W 24W 100W LED PCB
BasIC Information
Origin; Origin: China
Certification: CE, ROHS, UL
Model: Aluminum Base Plate 01
Base material: aluminum base
Copper thick: 1/2 ounce
board thick: 1.2mm
Size: Customized
Service: One -stop service
Product Details
Data Sheet
The structure of aluminum substrate:
Aluminum PCB is an aluminum -based CCL (CCL is a substrate for PCB). Aluminum PCB is actually very SIMilar to the FR4 PCB. The basIC structure of aluminum PCB is four layers. It consists of a layer of copper foil, a layer of dielectric layer, a layer of aluminum grassroots and aluminum -based membranes.
Copper foil layer: The copper layer used is thicker than the ordinary copper plate (1oz-10oz). The thicker copper layer means a large load ability.
The dielectric layer: The dielectric layer is a thermal conductivity, with a thickness of about 50 μm to 200 μm. It has low thermal resistance and is suitable for its application.
Aluminum substrate: The third layer is an aluminum substrate, consisting of aluminum substrates. It is high -thermal.
Aluminum diaphragm layer: aluminum base film is selective. It has a protective effect by keeping the aluminum surface from scraping and unnecessary etching. It has two types, namely less than 120 degrees or 250 degrees (anti -high temperature).
We use cookies to optimize our website and our service.