Kingford focus on the high-quality PCBA order demand of "Multiple varieties, medium and small batch, and short lead time".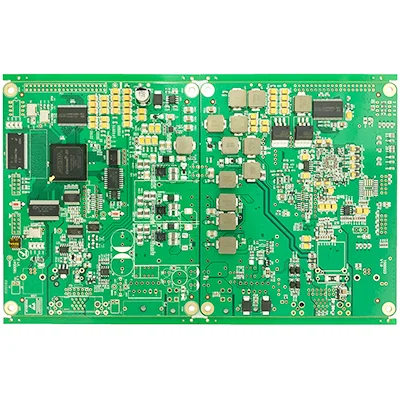 CNC system Turnkey PCB Assembly
Name: CNC system Turnkey PCB assembly
Material: Fiberglass Epoxy
MechanICal rigidity: rigid
Substrate: Copper
Model: FR-4
Material Type: Fr4 Tg130/140, Fr4 High Tg170
Specifications: Rohs, UL, ISO9001
HS Code: 853409000
Dielectric: FR-4
Flame retardant properties: HB
Processing technology: electrolytic foil
Insulation material: organic resin
Product Details
Data Sheet
Computer NumerICal Control (CNC) is a method of automatically controlling machine tools by using software in a microcomputer embedded on the tool. It is commonly used for machining of metal and plastIC parts.
Numerical Control (also known as Computer Numerical Control, commonly referred to as CNC) is the automated control of machining tools such as drills, lathes, milling machines, grinders, routers, and 3D printers by means of a computer. CNC machines process a piece of material (metal, plastic, wood, ceramic, or composite) to meet specifications by following coded program instructions without the need for a manual operator to directly control the machining operation.
Composition of CNC
From the point of view of automatic control, CNC system is a position (trajectory), speed (including current) control system, which essentially takes the displacement and speed of multiple actuators (each motion axis) as the control object and makes it Its automatic control system for coordinated motion is a computer control system equipped with a dedicated operating system. From the point of view of external characteristics, CNC system is composed of hardware (general hardware and special hardware) and software (special purpose). The two are mutually supportive and inseparable. The work of CNC is to realize some or most of the CNC functions by software with the support of hardware. Hardware is the foundation, software is the soul.
Composition of CNC device
The platform has the following two meanings:
Provide the necessary functions for the basic configuration of the CNC system; on the platform, function design and development can be carried out according to user requirements.
Fourth, the function of CNC
The function of the CNC device refers to the methods and means to meet the requirements of user operation and machine tool control. The functions of the numerical control device include basic functions and selection functions.
■Basic functions—the functions of the basic configuration of the CNC system, that is, the necessary functions;
■Selection function—a function that users can choose according to actual requirements.
The characteristics of CNC
1. Higher flexibility than NC
2. Good versatility
3. Continuous enhancement and expansion of CNC functions
4. Reliability is getting higher and higher
5. Facilitate the maintenance and use of the system
6. Easy to realize mechatronics
Single microprocessor CNC
Single microprocessor CNC means that the system has only one microprocessor as the core. This CPU is connected to the memory and various interfaces through the bus, and uses centralized control and time-sharing processing methods to complete tasks such as input/output, interpolation calculation, and servo control. and other tasks. The hardware and software structure of this system is relatively SIMple. The structure of the single microprocessor CNC is based on the basic structure of the microcomputer system. The microprocessor and the three-bus structure, I/O interface, memory, serial interface and various Display interface, etc.; also includes the control part of the machine tool.
Single Microprocessor CNC Features
(1) There is only one microprocessor in the CNC device, which realizes centralized control and time-sharing processing for functions such as storage, interpolation calculation, input/output control, and CRT display.
(2) The microprocessor is connected with interface circuits such as memory and input/output control through the bus to form a CNC device.
(3) The structure is simple and easy to implement.
Multi-microprocessor CNC
(1) Advantages of multi-microprocessor CNC
① High cost performance;
②Strong adaptability;
③ High reliability;
④Easy to organize large-scale production.
Main functional modules of CNC with multiple microprocessors
①CNC management module;
②CNC interpolation module;
③Position control module;
④ PLC module;
⑤Human-machine interface module;
⑥Memory module
CNC structure of multi-microprocessor
■Shared bus structure
In the shared bus structure, each functional module is inserted into a machine frame equipped with a bus socket, and each module is effectively connected together by the system bus to exchange various control instructions and data as required to realize various predetermined functions.
■Shared memory structure
In this multi-microprocessor structure, multi-port memory is used to realize interconnection and communication between microprocessors, and each port is equipped with a set of data, address, and control lines for port access. The access conflict problem is solved by a special multi-port control logic circuit. When the number of microprocessors
When the number increases, information transmission will often be blocked due to competition for sharing, reducing system efficiency.
CNC software structure
The characteristics and relationship between software and hardware in realizing various functions: In theory, the functions that can be completed by hardware can also be completed by software. From the point of view of realizing functions, software and hardware are logically equivalent.
Features:
The hardware processing speed is fast, but the flexibility is poor, and it is difficult to realize complex control functions. The software design is flexible and adaptable, but the processing speed is relatively slow. The allocation of functions realized by software and hardware is the division of software and hardware function interfaces.
We provide CNC system Turnkey PCB assembly, Turnkey PCB Assembly Services. Kingford is your one-stop Turnkey PCB Assembly factory.
Name: CNC system Turnkey PCB assembly
Material: Fiberglass Epoxy
MechanICal rigidity: rigid
Substrate: Copper
Model: FR-4
Material Type: Fr4 Tg130/140, Fr4 High Tg170
Specifications: Rohs, UL, ISO9001
HS Code: 853409000
Dielectric: FR-4
Flame retardant properties: HB
Processing technology: electrolytic foil
Insulation material: organic resin