Kingford focus on the high-quality PCBA order demand of "Multiple varieties, medium and small batch, and short lead time".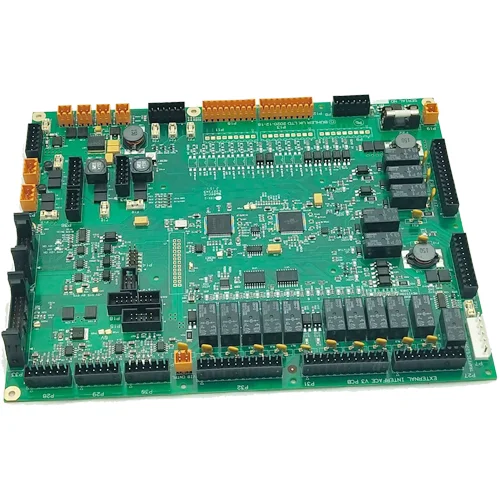 High Quality Double-Sided Fr4 PCB OEM Assembly Service
Name: IoT Double-Sided PCB assembly
Number of SMT lines: 7 high-speed SMT patch supporting production lines
SMT daily production capacity: more than 30 million points
Testing Equipment: X-RAY Tester, First Piece Tester, AOI AutomatIC Optical Tester, ICT Tester, BGA Rework Station
Placement speed: chip component placement speed (at best conditions) 0.036 S/piece
The SMAllest package that can be attached: 0201, the accuracy can reach ±0.04mm
Minimum device accuracy: PLCC, QFP, BGA, CSP and other devices can be mounted, and the pin spacing can reach ±0.04mm
IC type patch accuracy: it has a high level for mounting ultra-thin PCB boards, flexible PCB boards, gold fingers, etc. Can be mounted/inserted/mixed TFT display driver board, mobile phone motherboard, battery protection circuit and other difficult products
Product Details
Data Sheet
Kingford provides High Quality Double-Sided Fr4 PCB OEM Assembly ServICe services. This is a PCBA one-stop assembly factory with senior industry experience. Welcome to inquiry
1、Features
AEC-Q100 qualified for automotive applications – Device temperature grade 2: –40°C to +105°C, TA

Supports TMDS clock up to 96 MHz for WXGA and 720p60 or 1080i60 resolutions with 24-bit color depth

FPD-Link III outputs

High-definition multimedia (HDMI) v1.4b inputs

HDMI-mode DisplayPort (DP++) inputs

HDMI audio extraction for up to 8 channels

Supports up to 15 meters of cable with automatic temperature and aging compensation

Monitors spread-spectrum input clock to reduce EMI • I2C (master/slave) with 1-Mbps fast-mode plus

Compatible with DS90UB926Q-Q1 and DS90UB928Q-Q1 FPD-Link III deserializers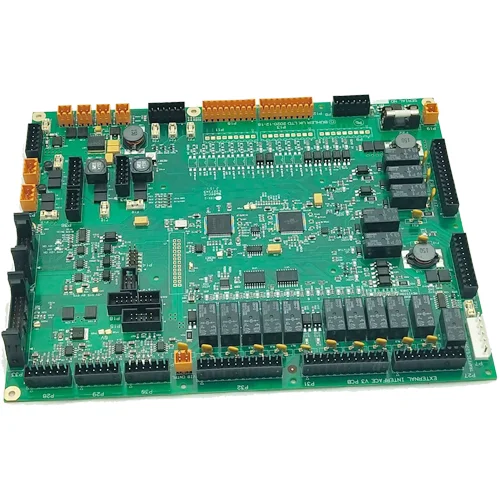 2、Applications
– IVI head units and HMI modules
– Rear seat entertainment systems
– Digital instrument clusters
Surveillance CAMeras

Consumer input HDMI port
3、Description
The DS90UB929-Q1 is an HDMI to FPD-Link III bridge device which, in conjunction with the FPD-Link III DS90UB926Q-Q1/DS90UB928Q-Q1 deserializers, supplies 1-lane high-speed serial stream over costeffective 50-Ω single-ended coaxial or 100-Ω differential shielded twisted-pair (STP) cable. It serializes an HDMI v1.4b input supporting video resolutions up to WXGA and 720p with 24-bit color depth. The DS90UB929-Q1 is also compatible with the DS90UB940-Q1/DS90UB948-Q1 deserializers.
Name: IoT Double-Sided PCB assembly
Number of SMT lines: 7 high-speed SMT patch supporting production lines
SMT daily production capacity: more than 30 million points
Testing Equipment: X-RAY Tester, First Piece Tester, AOI AutomatIC Optical Tester, ICT Tester, BGA Rework Station
Placement speed: chip component placement speed (at best conditions) 0.036 S/piece
The SMAllest package that can be attached: 0201, the accuracy can reach ±0.04mm
Minimum device accuracy: PLCC, QFP, BGA, CSP and other devices can be mounted, and the pin spacing can reach ±0.04mm
IC type patch accuracy: it has a high level for mounting ultra-thin PCB boards, flexible PCB boards, gold fingers, etc. Can be mounted/inserted/mixed TFT display driver board, mobile phone motherboard, battery protection circuit and other difficult products
We use cookies to optimize our website and our service.