Building 6, Zone 3, Yuekang Road,Bao'an District, Shenzhen, China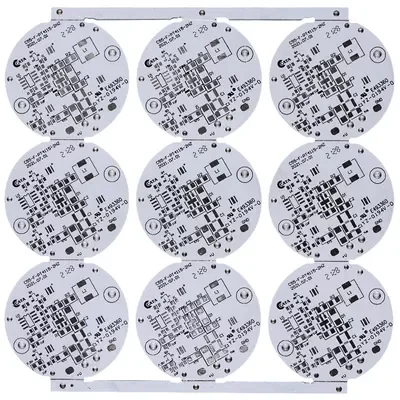 Street Light SMD 5730 LED Aluminum PCB
Place of Origin; Place of Origin: China
Certification: UL, CE, ROHS
Model: PCB 05
Layers: 1-2 layers
Tests: Fixture Test Fixture/Flight Test
Certificate: ISO9001:2008, ROHS, UL
Finished plate thickness: 0.2-7.0mm
Silkscreen: white, yellow, black
Testing service: Flying probe, 100% AOI testing, 100% ET testing
Product Details
Data Sheet
LED circuit boards play a vital role in saving power and extending LED life. The LED PCB can be used both as a landing surface for the LEDs and as a heat sink. Additionally, certain types of LED PCB boards are best suited as they are designed to reflect LED light and therefore support maximum light intensity.
application:
1. Ceiling light
2. Advertising light box
3. Commercial Lighting
4. Channel light
5. Groove light
6. Architectural Lighting
7. Decorative lighting
8. Panel light
9. Downlight
Place of Origin; Place of Origin: China
Certification: UL, CE, ROHS
Model: PCB 05
Layers: 1-2 layers
Tests: Fixture Test Fixture/Flight Test
Certificate: ISO9001:2008, ROHS, UL
Finished plate thickness: 0.2-7.0mm
Silkscreen: white, yellow, black
Testing service: Flying probe, 100% AOI testing, 100% ET testing
Just upload Gerber files, BOM files and design files, and the KINGFORD team will provide a complete quotation within 24h.