Kingford focus on the high-quality PCBA order demand of "Multiple varieties, medium and small batch, and short lead time".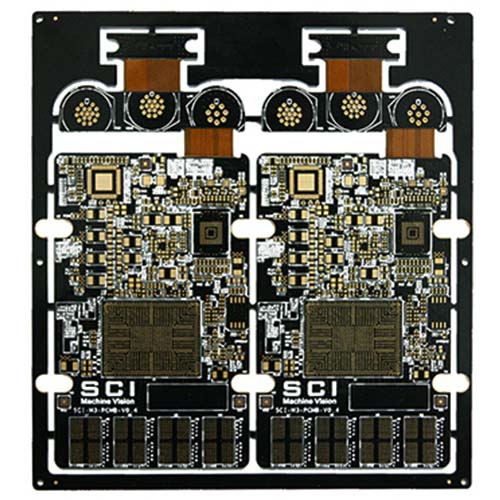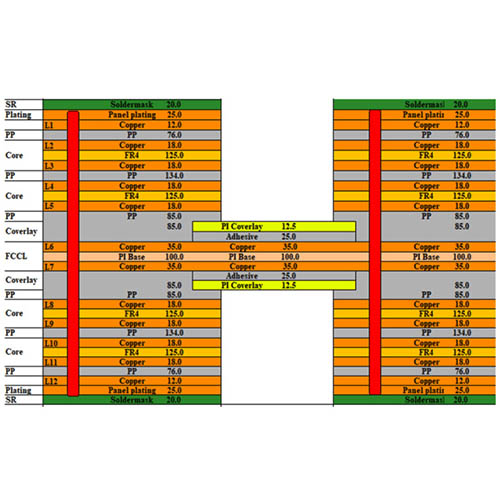 12-layer rigid-flex board
Name: 12-layer rigid-flex board
Layers: 12L
Structure: 5R+2F+5R
Plate thICkness: 1.6mm
Outer copper thickness: 1 OZ
Inner copper thickness: 1 OZ
Minimum aperture: 0.25mm
Minimum line width/line spacing: 3.5mil
Surface Treatment: Immersion Gold
Product use: process controller
Technological difficulties: The flexible and rigid board is a 12-layer high multi-layer structure, DuPont AP9141R high-performance flexible board
Product Details
Data Sheet
The electronICs industry has witnessed many technological advancements over the years. Different designs and types of printed circuit boards are being developed. Rigid-flex PCBs are the most widely used in many applications because of the many beneficial properties they offer. Rigid-flex PCBs are lightweight and compact. This helps reduce package size. Additionally, these types of printed circuit boards are designed in such a way that they can be surface mounted on both sides. This makes them the first choice for most application needs.
kingford offers 12-layer rigid-flex PCBs and 2-layer flexible printed circuit boards. We are a trusted name in PCB design and manufacturing, backed by a wealth of experience.
The design of a 12-layer rigid-flex PCB with 2-layer flex PCB is SIMilar to a 10-layer rigid-flex PCB with 2-layer flex PCB. However, adding 2 layers (ie, layers 11 and 12) makes the design a bit more complex than its 10-layer counterpart. The board's 2-layer flex PCB design makes it more flexible to manufacture. Another benefit of this printed circuit board is that you can use exposed pads and have access to the holes on both sides of the flex, and can cover the vias on either side. A 2-layer flex PCB consists of insulating layers between conductive layers. Plated through holes are used to make connections between layers.
We can manufacture these PCBs with a thickness of 0.5 mm ~ 3.0 mm. Copper thickness can vary from 0.5 oz to 6 oz. The final thickness of the board is 0.2 mm (flex). We use FR4 and polyimide materials for these boards. For designing custom PCBs, you can choose from surface finish options including OSP, HASL and Immersion Gold.
At kingford, we can help you manufacture these PCBs to the highest industry standards. We offer these 12-layer rigid-flex PCBs at the most competitive prices. Request a quote for this PCB, or call us for more information.
Name: 12-layer rigid-flex board
Layers: 12L
Structure: 5R+2F+5R
Plate thICkness: 1.6mm
Outer copper thickness: 1 OZ
Inner copper thickness: 1 OZ
Minimum aperture: 0.25mm
Minimum line width/line spacing: 3.5mil
Surface Treatment: Immersion Gold
Product use: process controller
Technological difficulties: The flexible and rigid board is a 12-layer high multi-layer structure, DuPont AP9141R high-performance flexible board
We use cookies to optimize our website and our service.