Kingford focus on the high-quality PCBA order demand of "Multiple varieties, medium and small batch, and short lead time".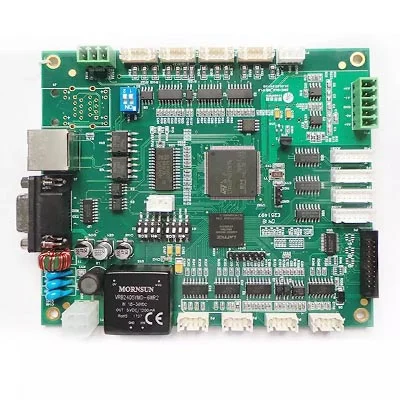 RF Half Hole PCB
Name: RF Half Hole PCB
Substrate: FR4, High TG FR4, high frequency, Alum, FPC
Copper ThICkness: 0.5-4 0z
Plate thickness: 0.1-4mm±10%
minute. Hole Size: 0.0078" (0.2mm)
minute. Line width: 0.003 in (0.075 mm)
minute. Line Spacing: 0.003" (0.075mm)
Surface treatment: HASL, ENIG, Immersion Silver, Immersion Tin, OSP
board size: square, round, irregular (with fixture)
Services: pcb and pcb assembly
Layers: 1-48
PTH hole tolerance: ±0.002 in (0.005 mm)
Minimum Soldermask Gap: 0.003" (0.07mm)
Screen printing minimum size: 0.006"0.15mm)
Maximum size of decorative panel: 700*460mm
PCB shape: square, round, irregular (with fixture)
Subcomponents: plastic, metal, screen
Certificate: IATF16949, ISO13485, ISO9001, ISO14001
Product Details
Data Sheet
Half -hole plating is a cost -effective connection strategy that converts the circuit board into subclasses on the wall. They are usually mainly used in thin spacing SMD or portable radio or radio frequency components. Because the panel is concave and electroplating, the panel will provide perfect welding landing. They are located on the edge of PCB, representing the motherboard or installation surface parts flat to the surface of the motherboard. The only suit will have no space to collect air or dust.
Name: RF Half Hole PCB
Substrate: FR4, High TG FR4, high frequency, Alum, FPC
Copper ThICkness: 0.5-4 0z
Plate thickness: 0.1-4mm±10%
minute. Hole Size: 0.0078" (0.2mm)
minute. Line width: 0.003 in (0.075 mm)
minute. Line Spacing: 0.003" (0.075mm)
Surface treatment: HASL, ENIG, Immersion Silver, Immersion Tin, OSP
board size: square, round, irregular (with fixture)
Services: pcb and pcb assembly
Layers: 1-48
PTH hole tolerance: ±0.002 in (0.005 mm)
Minimum Soldermask Gap: 0.003" (0.07mm)
Screen printing minimum size: 0.006"0.15mm)
Maximum size of decorative panel: 700*460mm
PCB shape: square, round, irregular (with fixture)
Subcomponents: plastic, metal, screen
Certificate: IATF16949, ISO13485, ISO9001, ISO14001
We use cookies to optimize our website and our service.