Kingford focus on the high-quality PCBA order demand of "Multiple varieties, medium and small batch, and short lead time".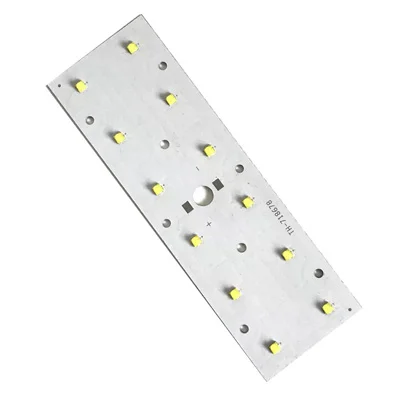 LED Aluminum PCB
Name: LED Aluminum PCB
Substrate: Aluminum
Copper ThICkness: 1oz~4oz
Plate thickness: 1.6mm
Surface treatment: tin spray
board size: 145x47mm
Applicable field: street light
Product Details
Data Sheet
Features of aluminum substrate:
1. It is a low-alloy and high-plastIC alloy plate with good thermal conductivity, insulation and workability. It is used in circuits and is very effective for heat dissipation. Electrical products do not need to install radiators.
2. When used in electrical products, it can effectively reduce the operating temperature of items, improve the working efficiency of products, and prolong the life of electrical products;
3. Compared with the ceramic substrate, the hardness is relatively large, and it is not easy to be broken, making the machine durable, and the density is SMAll and the volume is small, so it occupies a small position in the product.
Name: LED Aluminum PCB
Substrate: Aluminum
Copper ThICkness: 1oz~4oz
Plate thickness: 1.6mm
Surface treatment: tin spray
board size: 145x47mm
Applicable field: street light
We use cookies to optimize our website and our service.