One - stop Electronic Manufacturing Services(EMS) Solution provider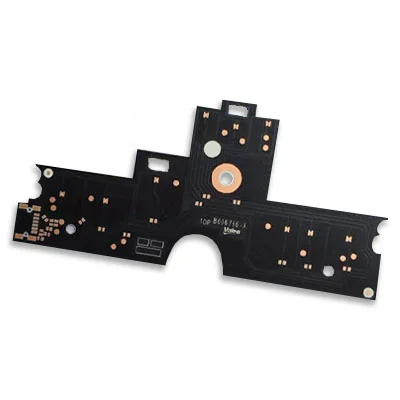 LED car light aluminum substrate
Name: LED car light aluminum substrate
Plate thickness: 1.6MM
Withstand voltage: AC2500-4000V
Production process: exposure process
Copper foil thickness: 2OZ
Quality certification: ULE354470/ISO/SGS/IATF16949
Thermal conductivity: 2.0w/m.k
Solder mask type: black oil
Surface treatment: OSP
E-T test: 100% computer open and short test
Product Details
Data Sheet
The performance of aluminum substrate:
1. Stability: The dimensional change of aluminum substrates is generally relatively small, which is more stable than printed boards made of many insulating materials;
2. Insulation: The aluminum substrate has good thermal insulation and high hardness, which can replace the fragile ceramic plate, which can reduce the real area required by the printed board, so that the product is not allowed to install a radiator, etc., which can improve the product's performance. Heat dissipation and improve product efficiency and reduce costs;
3. Thermal expansion: The aluminum substrate can improve the heat dissipation function of the product, thereby alleviating the thermal expansion and contraction of the vitality of the printed board, and at the same time improving the reliability of the product and making the product more durable.
Name: LED car light aluminum substrate
Plate thickness: 1.6MM
Withstand voltage: AC2500-4000V
Production process: exposure process
Copper foil thickness: 2OZ
Quality certification: ULE354470/ISO/SGS/IATF16949
Thermal conductivity: 2.0w/m.k
Solder mask type: black oil
Surface treatment: OSP
E-T test: 100% computer open and short test
We use cookies to optimize our website and our service.