Kingford focus on the high-quality PCBA order demand of "Multiple varieties, medium and small batch, and short lead time".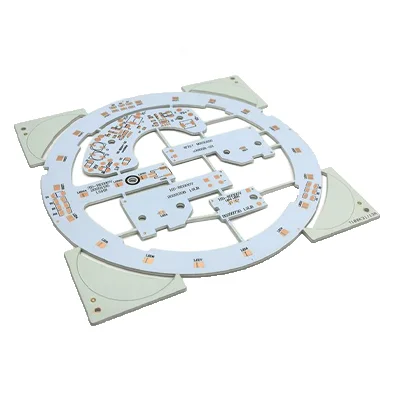 Downlight Aluminum Substrate
Name: Downlight aluminum substrate
Number of layers: single-sided aluminum-based circuit board
Plate thICkness: 1.6+/-0.1mm
Sheet used: high-purity aluminum
Minimum aperture: 2.2mm
Surface treatment: OSP
Thermal conductivity: 2.0
Outer copper thickness: 35um
Application field: LED lighting field
Product Details
Data Sheet
aluminum substrate series (downlight aluminum substrate), downlight aluminum substrate is used on downlight lamps to help light-EMItting diodes to dissipate heat. 100mm, 150mm, 128mm, 200mm, ranging.
Name: Downlight aluminum substrate
Number of layers: single-sided aluminum-based circuit board
Plate thICkness: 1.6+/-0.1mm
Sheet used: high-purity aluminum
Minimum aperture: 2.2mm
Surface treatment: OSP
Thermal conductivity: 2.0
Outer copper thickness: 35um
Application field: LED lighting field
We use cookies to optimize our website and our service.